Suspended Animation - 6/18/04 review
June 18, 2004
---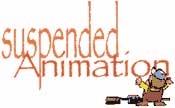 We are pleased to provide for our readers this highly syndicated column which critiques comic books. We hope to have a new column appear each Friday.
Frankenstein Mobster, published by Image Comics, 32 pages, $2.95.
---
Terry Todd was a good cop, in a bad town. Monstro City is home to outcasts and immigrants, and well, monsters. It is also home to the mob, and a police force that "serves and protects" its bosses. Todd ran afoul of the system, and the monsters lost one of their few friends, as a result. Now, Todd's daughter, Terri, arrives on the scene. A young detective, sympathetic to the monsters' plight, Terri has a suspicious eye cast her way by the corrupt police force, as she's paired up with her father's old partner. Can she trust him to back her up? All this, and Terri hasn't even found out that her father is not "dead," anymore; at least, not conventionally.
Mark Wheatley's newest creation, Frankenstein Mobster, offers much to today's comic reader. Besides a storyline rich with possibilities, and near certain future twists and turns, there are interesting characters with believable motivations and dialogue, not to mention Wheatley's beautifully painted artwork, which is a cookie-cutter version of no other style seen in comics. Wheatley's work is truly original in every way, as you've never seen classic scary-movie monsters in the same light.
Making the comic even more interesting is the availability of original Frankenstein Mobster strips and extras at its website. A password is given in the letters' page of each issue that opens up all kinds of additional "goodies," such as sketches and convention photos--a nice gimmick for giving readers a little moreenjoyment for their hard-earned bucks.
Frankenstein Mobster is recommended for all but the youngest readers.
MINI REVIEW:
Music Comics #54, published by Walking Man Comics, 8 pages, $1. It's an interesting experiment in independent mini-comics, placing words to a suggested song inthe reader's head, promoting readers' local radio news. It's worth a look.
Meet the authors: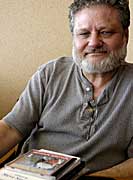 Michael Vance has been doing free-lance writing for over 25 years and has been published in many regional magazines and newspapers. He has written for the comic strip, "Alley Oop" and has had his own strip for many years entitled, "Holiday Out," which was reprinted as a comic book. He also has written "Forbidden Adventure: The History of the American Comics Group." His work has qualified him for a listing in "Who's Who of American Comic Books" and "Comic Book Superstars."
Dubbed Tulsa's "Master of Suspense," Vance is known for having written 23 horror, SF, fantasy and suspense short stories narrated by legendary actor William Windom entitled, "Light's End."
Currently he is communications director of the Tulsa Boys' Home, a nonprofit agency and lives in Tulsa with his wife.

Assisting Vance with Suspended Animation is Mark Allen. Allen has been a Baptist minister for over 13 years as well as having done news reporting in Oklahoma. He shares with others his 30 year passion with comics, a medium he considers as an extremely under-acknowledged art form. He and his wife and daughter live in western Oklahoma.