Suspended Animation - 9/10/04
September 10, 2004
---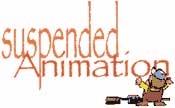 The Steve Ditko Reader, vol. 2, pp. 160 /$25.00, published by Pure Imagination Publishing.
---
Last year I reviewed the first volume of The Steve Ditko Reader (you really ought to read it), and am happy to do so for volume two, redundant though it may seem. It's worth it, however, to highlight the work of one of the most prolific individuals the comics industry has ever seen. The first volume partially was concerned with history and background; volume two focuses completely on reproducing Ditko's comic work. An eclectic collection of mystery, horror, science fiction, crime, western, and, yes, even jungle tales awaits the wise and fortunate reader who chooses to delve into this work.
Ditko's artistic style is timeless. No other artist, before or since, has surpassed his mastery for setting mood, or his knack for characterization. His creations are more than two-dimensional actors on a page; they reach, and grab, and pull the reader in.
Quite impressive, especially considering most of these reprints are short stories. The Steve Ditko Reader, Vol. 2 is highly recommended for anyone who likes any kind of captivating reading, or original, eye-catching artwork. Believe me, there will be something in here, for you.
A Short History of American Comics
Andrew Smith is a syndicated columnist for Scripps Howard News Service. He writes about comics and comic-related media. He has also published an interesting and useful Web page for those interested in a quick, clean rundown of the history of comics.
Aptly entitled A Short History of American Comics Smith's website takes readers on a tour of the phenomenon, beginning with the Stone Age, believe it or not. Also included is a defense, of sorts, of his love of comics, for "the curious, the humorless or the ignorant." Some who are knowledgeable may question details and opinion, but all should agree that Smith has put together a fairly good starting place for those interested in the background of the industry. Check it out.
Mark Allen
Editor's note: For previous columns, please place the keywords, "Suspended Animation" in the search box on our homepage.