Suspended Animation - 5/13/05
May 13, 2005
---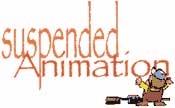 Stickleback/pub. by Alternative Comics /47 pp./$6.95/Graham Annable, writer/illustrator

---
I don't generally care for under-ground comics because of their glamorization of drugs and alcohol, promiscuous sex, rebellion against authority, profanity, and nihilism. But I did enjoy Stickleback.
Sure, there is a bit of profanity, but Stickleback is a profane man living on the edge of society, trapped by an angst created by his own personality. His narrow world of apartment, cat, tiny wadded up toilet paper people, and one nutty friend, could produce nothing healthy.
On the prose side, believable dialog and thought-provoking characters do much to recommend this title.
Plot, however, is of minor significance in Stickleback. Stickleback's cat destroys his toilet paper statues. Stickleback meets a nagging friend with a disgusting fingernail at a restaurant. That's it for plot.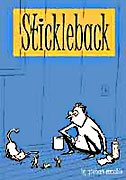 Visually, the artist's thick, simple line creates a distinctive style that interests the eye and is suited to the story. In addition, Stickleback's pipe-cleaner limbs struggle to rupture the thick panel borders that restrict his world and create a claustrophobic, oppressive atmosphere.
Stickleback is a wonderfully rich, subtle character study, drawn by a cartoonist with the ability to communicate more than is obvious on the surface through a near flawless marriage of his art and word.
Graham Annable is one talented cartoonist, and not because he's my brother. The overriding, saving grace of this alternative title is that his characters are not painted as being normal. Stickleback is recommended for thoughtful adults.
MINIVIEW: "Last Chapter and Worse" [Andrew and McMeel] This is Gary Larson's last collection of his marvelous, single panel comic strip, "The Far Side". For those from Mars and unaware of this bizarre comic strip, here's an example: picture a restaurant full of alligators in which, framed by the window where a live chicken perches, an alligator cook barks: "Chicken UP! This title is still available at book stores, some on-line book outlets, and even garage sales.
by Michael Vance
Editor's note: For previous columns, please place the keywords, "Suspended Animation" in the search box on our homepage.