Suspended Animation - 12/9/05
December 09, 2005
---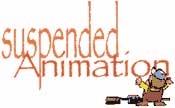 Steve Ditko: Space Wars/pub. by Vanguard Productions/ 144 pp./ $16.95 soft cover/$34.95 hard cover/written & drawn by Steve Ditko/with some stories written by Joe Gill

---
What's better than planet-sized world-eating space-ships, an army of vengeful robots, a comic book artist's story about alien invaders coming true, or an old man being picked up by aliens for an intergalactic party? Nothing! Or, at least very little. These and many more wonderful weavings of way-out wackiness can be found in the collection of stories entitled Steve Ditko: Space Wars.
Ditko, a long-time fan favorite in the comic book world, has always seemed to have a knack for originality, and Space Wars is a perfect example of that trait. Extremely talented, and with a singular style seen nowhere else, he seemed to have the ability to marry said style to any genre in the medium of comics. With the exception of his co-creation of Marvel's Spider-Man character, however, his pencils melded no more seamlessly than with the wonderful world of science fiction.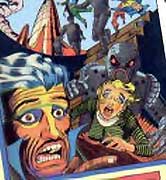 Printed in black and white, Space Wars offers readers full appreciation of Ditko's thick, bold lines, while taking nothing away from his unique vision when rendering space ships and various gadgetry. Most appreciated by this reviewer, however, is the artist's mastery over his characters. With a firm grasp on human anatomy, as well as an able portrayal of various expressions, Ditko enables the reader to believe in and sympathize with his characters. Whether it be the selfish scheming of a pair of lovers, the grim visage of a misguided scientist's monstrous creation, or the unfettered joy of an alien race as they discover a way to feed their people, Ditko's ability to engage the reader is definitely an asset.
And, as if all of the above weren't enough to hook you, at the end of a story there's NOTHING like a Ditko "twist" with which this book abounds!
Steve Ditko: Space Wars is recommended to anyone who enjoys science fiction, or just a whoppin' good yarn! Find it at your local comics dealer, or online retailers or auctions.
Commentary by Mark Allen