Suspended Animation - 6/9/06
June 09, 2006
---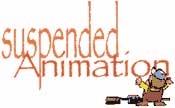 ---
Graphic Classics: Rafael Sabatini/ pub. by Eureka Productions and found here/141 pp./ $11.95/various artists and writers/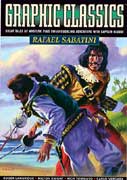 Once a celebrated author, Rafael Sabatini is virtually unknown today. Even his tales of the pirate Captain Blood, 'immortalized' in motion pictures by actor Errol Flynn, are slipping into obscurity. This would suggest that Sabatini is positive proof that fame is fleeting.
But, the 13th volume in the Graphic Classics series of literature adapted into comics suggests that Sabatini's fame shouldn't be fleeting. He wrote tales of high adventure and the supernatural in comics as well as tales in other genre, including novels, short stories, and poetry. They are deserving of praise.
My favorite art in this collection is by Gerry Alanguilan. The best story is every story; Sabatini was talented, and these terse adaptations of his work are entertaining and worth your attention.
The entire Graphic Classics series is strongly recommended.
--
Superman Family #173 [1975]/ pub. by D.C. Comics/50 pp./ price varies/written and drawn by various writers and artists/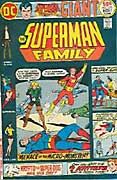 They were different.
In general, comic books predating the 1980s were story rather than character driven, and were created for an audience of young readers around the age of ten. Indeed, Superman Family almost seems silly compared to today's character driven, hard-edged, and even grim titles, but reading an issue for the first time in 30 years was refreshing.
"Superman's pal" Jimmy Olsen; Supergirl, Lois Lane; and Superdog are the featured cast. Inside, Jimmy becomes a superhero, Supergirl marries the man who destroyed her home planet, Suberdog saves Superboy, and Lois Lane becomes a series of super-bugs. No one is killed, no one is a drug addict, and life doesn't stink. No kidding.
So, couldn't we get a few optimistic titles back on today's market? Pretty please!
Oklahoma Cartoonists Collection (OCC) Hall of Fame member E. Nelson Bridwell and OCC Associate Kurt Schaffenberger produced the Lois Lane "Super Bug" story. Recommended.
--
The Art of John Romita/ pub. by Marvel Comics/96 pp. hardback/ $34.95/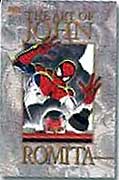 As a fan of comics, and a student of the history of the medium, books about its creators are always a draw for me. Additionally, I believe the argument can be made that they can hold great interest for any pop culture enthusiast. With that in mind, let me introduce you to The Art of John Romita.
If you've read few comics in your life, you're probably clueless as to Romita's identity. John Romita is one of the most influential artists whose work ever graced a comics page.
Taking over The Amazing Spider-Man from the character's co-creator and original artist, Steve Ditko in 1966, Romita quickly infused the title with his own charming, "clean-cut" style. In his stride on the title, he gave Spider-Man, as well as his alter-ego, Peter Parker, what some fans still consider the classic look of the character.
Romita has accomplished a great deal more, however, than his landmark work on one of Marvel's most well-known and beloved titles. His influence was felt as far back as the Golden Age of comics, and is still being felt today. Romita put his artistic mark on suspense, sci-fi, crime, western and romance tales. This publication in basically book-length interview form with Romita maps out his impressive career.
Probably one of the most interesting things about Romita brought to light by the book is his humility. Here is a man who literally helped shape superhero comics, yet who has not become conceited or high-minded. After decades in the business, he is still sometimes hesitant and doubtful about his own incredible talent.
This reviewer, however, is not, nor should readers doubt their enjoyment of this informative work that also happens to be chock-full of wonderful artwork. It even contains Romita's most favorite Spider-Man story that he and Stan Lee produced. It is highly recommended.
--
Mouse Guard: Belly of the Beast (#1 of 6)/ pub. by Archaia Studios Press/22 pp./ $3.50/written and drawn by David Peterson/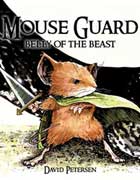 Although it looks and reads like a children's book, Mouse Guard is not for children. Its introduction states that "mice struggle to live safely and prosper among all of the world's harsh conditions and predators. Thus the mouse guard was formed".
These mice do so with violence, blood, and death in a mix of reality and fantasy that is neither traditional children's nor adult literature.
'Tis the content that blurs the literary distinctions as three sighted mice search for a missing merchant mouse.
Beautiful, reality-based art ends at the tip of the swords carried by the mice, at the clothing worn, and at the tips of tongues that speak. But a number of scenes of graphic violence are too disturbing for young minds that know nothing of death.
It's confusing. So, who is the intended audience of this new jewel?
Mouse Guard is recommended for mature readers who enjoy art and story generally associated with children's books.
--
Electric Girl #3/ pub. by AiT/PlanetLar/160 pp./ $13.95/written and drawn by Michael Brennan/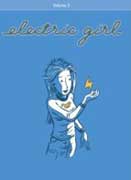 Despite its claim to be a graphic novel, this collection reprints issues 9 and 10 of a delightful new comics title for pre-literate and beginning readers.
Young girls in particular will enjoy the entertaining adventures of Virginia, a teenage girl with electric powers. Virginia is not characterized as a superhero in this well-written and drawn work. She must contend with the mundane problems of life including the antics of her dog Blammo as well as the fantasy of a gremlin named Oogleeoog.
Some children may ask 'what is a gremlin' and 'why does Virginia have one', questions that one hopes will be answered in future compilations.
Commentaries by Michael Vance and Mark Allen