Suspended Animation - 5/9/08
May 09, 2008
---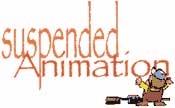 Archie #575-581/ pp. 20/ $2.25 ea./published by Archie Comics/various writers/art by Stan Goldberg/

---
You know about Archie, Veronica and their gang, and that Archie comics are well-written and well-drawn stories about the complications of life for teenagers living in Riverdale. But do you know anything about principal Archie artist, Stan Goldberg?
Born in 1932, Goldberg began his comics career in 1949 as a colorist at Marvel Comics. He helped design the color schemes of Spider-Man, the Fantastic Four, and other Marvel superheroes.
Goldberg also drew Millie the Model and Patsy Walker for Marvel. These teen comics laid the foundation for most of Goldberg's career in comic books. He later drew Date with Debbie, Swing with Scooter, Captain Carrot and His Amazing Zoo Crew and Binky for DC Comics.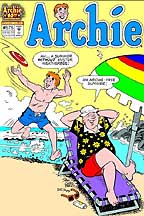 In the early 1970s, Goldberg began his long career working on Archie's line of titles, including, Archie and Me, Betty and Me, Everything's Archie, Archie's Pals 'n Gals and many others.
One of his oddest titles in 1994 partnered Archie with Marvel's gritty vigilante, The Punisher in Archie Meets the Punisher.
Goldberg's artistic style is a loose, minimalistic approach that draws a reader's attention to his human subjects more than to the environment in which they live. But he is no slouch in drawing backgrounds as well. Riverdale, considered by many as a precursor to "90210," is a visual stereotype of America's best cities, drawn as the suburb of a large, metropolitan city with all of the nuances of a small town.
In addition, you'll never get visually lost in an Archie story. Goldberg's storytelling technique is flawless; his art, drawing attention only to itself, never overwhelms the story. This is the trademark of a true master of the comics medium.
Archie and the work of Stan Goldberg are recommended for teens and the young at heart.
Review by Michael Vance
Check out Dark Corridor, a horror, fantasy, and suspense short story magazine here. Michael Vance contributes the offbeat tales "The Zoo" and "Picked Clean."
Interested in the exciting Oklahoma Cartoonists Collection and Toy and Action Figure Museum? Go here.
For previous reviews of other comic books put "Suspended Animation" in the search box on the Joplin Independent homepage.