Drive like somebody's life depended on it
April 11, 2013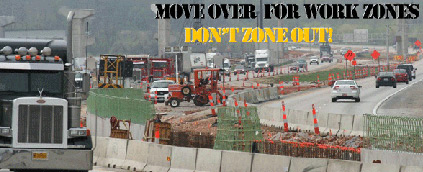 April 15-19 is Work Zone Awareness Week and the Missouri Department of Transportation wants to partner with Missouri drivers on insuring safety in highway work zones.
Here's the plan:
MoDOT will set work zones in ways that make sense, with easy-to-read static signs, understandable messages on electronic signs and reasonable speed limits.
Drivers are reminded to slow down in work zones, avoid cell phone use and other distractions, drive sober, obey signs and pay attention to flaggers if present.
The goal is to make sure that workers with the Missouri Department of Transportation and employees of highway contractors can get their work done safely while drivers and their families travel safely. It's a win-win situation so that at the end of the day, everyone gets home safely.
Work zone crashes
In 2012, eight people were killed and 623 people were injured in Missouri work zone crashes. In 2011, 11 people died in Missouri work zone crashes while 712 people were injured.
The top five contributing factors in work zone crashes in 2012 were following too closely, inattention, improper lane use or change, failure to yield and driving too fast for conditions.
Rate MoDot work zones
MoDOT wants work zones to be safe while keeping traffic moving as smoothly as possible despite lane closings, reduced speeds and delays. The agency is asking drivers to fill out "Rate Our Work Zone" surveys giving drivers a chance to say what they like or don't like about a given work zone and providing information that can be used to make improvements. To participate go here.
Road work in 2013
While revenues are declining and fewer major construction projects can be built, MoDOT still has significant work to accomplish in 2013.
To find out about road work in the region, go here.