Attorney hired to investigate impropriety
July 31, 2006
The city of Joplin has retained Howard Wright, former attorney for the city of Springfield, to conduct an investigation of Mayor Jon Tupper's actions regarding his son's purchase of property near Joe Becker Stadium. Mayor Tupper had initially requested the Missouri Ethics Commission to conduct the investigation, but he found that the commission does not pursue investigations that are self-initiated.
At the July 18, 2006 Joplin City Council meeting, Mayor Tupper excused himself from the dais in order for the remaining eight council members to discuss the issue. At that time, the members voted unanimously for Brian Head, city attorney, to hire an individual to investigate the matter of any wrongdoing. Head states that the city's contract with Wright provides for up to $6,000 in fees, plus $1,000 for expenses. It is estimated that Wright will provide a report to the city council by early September.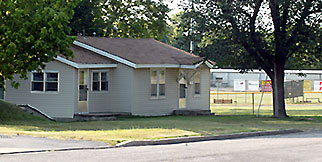 This house at 310 S. Comingo Ave., now owned by Joshua L. Tupper, is the subject of a controversy over whether his father Mayor Jon Tupper unethically encouraged his son's recent purchase. The property is near the Joe Becker Stadium that the council has been working to expand. See the Globe article by Derek Spellman here.

The Council has the responsibility to investigate council members when a violation of ethics is alleged, said Head. "So, the Council and the City aren't paying for legal expenses but are paying an investigator who happens to be an attorney to conduct an investigation into a potential ethics violation."
Wright retired from his position at Springfield in May 2005 after serving 33 years. He was the city attorney for Cape Girardeau, MO for 3½ years and an assistant legal counsel for the Missouri State Highway Commission for 2½ years. Wright holds a Bachelor of Science in public administration and a Juris Doctorate, both from the University of Missouri. He was a Missouri Municipal League board member. He has served two terms as president and vice president of the Missouri Municipal Attorneys Association and was the first recipient of the Lou Czech Award for outstanding service as a municipal attorney. He has also served three terms as chair and vice chair of the IMLA Committee on Personnel and Labor Relations two terms as chair of IMLA's Economic Development, Taxation and Finance Section.
Wright has authored numerous articles on municipal law, including a Missouri Bar CLE chapter on public employer-employee law. In 2005 Wright was awarded the Distinguished Service Award from the Missouri Municipal League. He served as a member of the Eminent Domain Task Force for Missouri and is special counsel to the City of Springfield on a part time basis.
The question as to why the council couldn't just contact the ethics commission instead of asking Head to hire an attorney has been posed and awaiting a reply.