Quilts, quilts and more quilts
September 10, 2006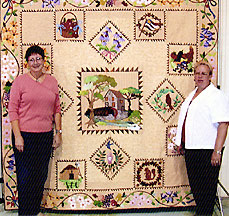 Merrilee Tieche and Sue Swindle are pictured with the Ozark Piecemakers 2006 donation quilt, "Ozark Memories," that they designed. It will be auctioned off at the end of OPQG quilt show to be held at the Springfield Expo Center.
SPRINGFIELD - Over 400 quilts will be on display at the Ozark Piecemakers Quilt Guild 2006 Quilt Show with several of them to be auctioned off. The event will take place from 9 a.m. to 5 p.m. on both Thursday, Sept. 21 and Saturday, Sept. 23, and from 9 a.m. to 6 p.m. on Friday, Sept. 22 at the Springfield Expo Center, 635 E. St. Louis St. in Springfield's historic downtown. The Third Annual Quilt Auction, in part to benefit the guild's Outreach Committees, Harmony House and the Family Violence Center, will be conducted by auctioneer Jerry Taylor. It will take place at 6 p.m. on September 22. Information on leaving a bid may be obtained at the auction quilt display.
A drawing for the quilt "Ozark Memories" will take place on September 23. The quilt whose main theme is abundant water, was designed by Merrilee Tieche and Sue Swindle, members of a OPQG committee from a list of things that reminded them of joys of living in the Ozarks. The center medallion portrays a rushing Ozark stream with an old mill on its banks. The surrounding blocks portray the bounty of the land, symbols of rural life and the patriotism that abides here.
The blocks and borders of the quilt were designed by Tieche, then appliqued, inked and embroidered. Swindle designed the setting which includes a tiny saw-toothed border surrounding the center medallion as well as each of the blocks with quilting giving definition to the surface.
"Ozark Memories" was juried into the prestigious 2006 American Quilters Society Show in Paducah, KY. "This is an honor for our guild, the people who tirelessly worked on making the quilt, and the lucky individual whose ticket will be drawn at the end of the show," said Sue Childers, publicity chairperson.
Featured events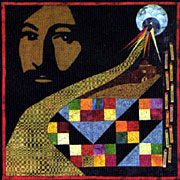 "Jacob" is the title of the work of male quilt-artist Joe Galusha.
An art exhibit entitled "Men of Biblical Proportion" curated by Ruth Harris of Hinton, OK and her daughter Chantelle Cory of Broken Arrow, OK, will showcase 51 art quilts created by male quilt-artists. Among the subjects are "Enoch" by Michael W. Dean, "Adam" by Tristan Robin Blakeman, and "Jacob" by Joe Galusha. The work by men from various professions was constructed with a variety of materials and styles. A further description is found here.
Other features of the event include a wearable art display and fashion show, appraisals by American Quilter's Society certified appraiser Kathy Kansier, and a "bits and pieces" boutique offering hand made items for sale as well as hundreds of books and quilter's supplies. Silent bids will be accepted for a "Pieces of the Ozarks" quilt on display at the boutique. A "Bed Turning" demonstration will be held each day where antique quilts are layered on a bed placed upon a stage in order that they may be turned down individually while a story-teller describes what makes each unique.
The OPQG, celebrating its 25th anniversary, has over 300 members. In 2005 Community Quilts, an outreach of the guild, donated 410 quilts to 10 different non-profit organizations in the community.
Other area quilt shows
Two shows sponsored by Uncommon Threads Art Quilt Group have been scheduled simultaneously with the OPQG Quilt Show and are within walking distance of the Springfield Expo Center. The restored Creamery, the home of the Springfield Regional Arts Council at 411 N. Sherman Pkwy., will be the setting for "Art Quilts of the Creamery" featuring the work of well-known quilt artists from throughout the United States. The theme of this invitational show that will run for two additional weeks is "Guilded" featuring glitzy surface design. For additional information about this show, contact Susan Leslie Lumsden by sending an email here.
Quilts on display at the Hawthorne Gallery, 2143 E. Walnut, will be offered for sale. The exhibit will run from September 21 to October 30.