Keith Anderson to host big party in Miami, OK
November 11, 2006
...Good-bye
Daddy looked me in the eye
Said go, ya gotta goDon't forget to call home
And mama cried
Keep Jesus in your life
And I hugged her one last time
And headed down the road
In a dusty kind of smoke
Out of Podunk.....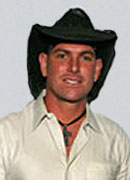 Those lyrics are describing Miami, OK, the home of its creator, songwriter and country singer Keith Anderson.
"Podunk" is on the CD, that Anderson recorded in 2005. One of the album's 11 songs, "Pickin' Wildflowers" already has gone gold. "Podunk" is picking up in popularity.
Anderson with the help of promoter Tony Holden (Buffalo Run) has convinced Arista, his record label to help sponsor what he is describing as a "big ol' Miami reunion/party/free concert/video shoot." It will happen on Saturday, Nov. 18, 2006, on Main St. with the stage on the street corner near the Coleman Theatre.
"The label never lets an artist do four videos on one album; so I never thought I would get to do this, but I really pushed Miami (the "Podunk" inspiration) to the label and told them how cool it would be to have all my family, high school friends and other friends at the show/video shoot," Anderson said.
Lucky individuals ages 14 and over will be chosen to be part of the video during try-outs at 3 p.m., Tuesday, Nov. 14 at the Coleman. The object of the video is to duplicate the "look" of a small town and its people.
Others are invited to watch the taping of the video. No set schedule has been announced for it yet, but onlookers are encouraged to show up as early as they can on Saturday.
Live entertainment is scheduled to begin at 7 p.m. with a warm-up act. Anderson will perform at 8 p.m.
A graduate of Miami High School in Oklahoma, Anderson went on to graduate at the top of his class at Oklahoma State University majoring in construction engineering. He placed second in a Mr. Oklahoma bodybuilding competition and was selected for an Oklahoma All-State football team. Success as a member of the OSU baseball team got his name on a draft list of the Kansas City Royals, but a shoulder injury put an end to pursuing a professional baseball career.
In the late 1990s he left "Podunk" for Nashville where he hoped to concentrate on what he liked best, singing and writing country music. Teaming up with Kent Blazy, George Ducas, Amanda Williams and Kim Williams, Anderson co-authored the hit "Beer Run (B Double E Double Are You In?)" for Garth Brooks and George Jones who received Grammy, CMA and ACM nominations for their duet rendition.