Pat down or x-ray, a passenger's choice
December 05, 2006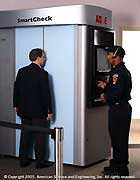 The Transportation Security Administration (TSA) soon will be testing its first X-ray backscatter technology. Calling the Backscatter "a voluntary option for passengers undergoing secondary screening as an alternative to the physical pat down procedures" currently conducted by their officers at the security screening checkpoint in airports, TSA justifies the technology "in its endeavor to protect the nation's transportation infrastructure as well as the traveling public." The TSA website does not mention the location of the testing. However, unofficial news sources claim testing will be initiated at the Phoenix Sky Harbor International Airport and eventually be used in airports as well as in subways across the U.S.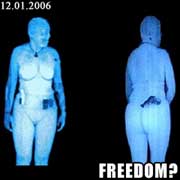 Some TSA screener will be looking at when you go through airport security. And it will be reviewed by an "officer in a remote location." Preferably a dark and quiet room with a little stripper music playing. Did I say the remote location might be in India? Osama approves this screening method.--comment by Mark Adams

While x-ray pictures on the Internet seem to be suggesting otherwise, the TSA is claiming on their website that they have worked closely with the vendors to modify the image of the passenger that is taken by the Backscatter. Diagrams that the agency have posted suggest that a person's facial characteristics as well as any organs or orifices below the waist significantly are obscured.
The TSA also claims that it will not be storing, printing or transmitting the passenger's image on a network but rather allowing it to be viewed in what it calls "a remote area from the screening process" without the TSA officer attending the passenger involved.
A link to a visual (no sound) training video focusing on what the Backscatter might detect is posted on the TSA website. It shows the buns of a rather nicely shaped male and pans around this dorsal view to show how this person might be carrying weapons or other illegal paraphernalia.