Both sides criticize McCaskill
March 02, 2007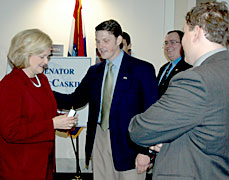 Little did Sen. Claire McCaskill (D-MO), at left, know regarding the significance of the rubber stamp Dan Bell, southern director of the Missouri College Republicans, presented to her. It read "Democratic Party." The "award" was made outside McCaskill's Washington, D.C. office. The Missouri College Republicans were in town for a Conservative Political Action Conference.
The Missouri College Republicans (MOCR) presented Missouri Senator Claire McCaskill with the dubious "Rubber Stamp Award" for her role in what they considered "sidelining Missouri values to vote with east coast liberal Democrats."
"After researching Sen. McCaskill's voting it became clear, despite campaign promises to the contrary, that Sen. McCaskill has become a 'rubber stamp' for the Democrat Party," explained Jeremy Hagen, MOCR vice-chair. "Indeed, her independent streak during the campaign seems to have melted away upon arrival in D.C."
Hagen's statistics show that Sen. McCaskill has voted with Sen. Hillary Clinton (D-NY) 92 % of the time, with Senator John Kerry (D-MA) 94%, and with Senator Edward Kennedy (D-MA) 96%. "For New York and Massachusetts this is great, but what about Missouri?" Hagen said.
Missouri State University chapter chair Stephen Smith added, "For a person who campaigned that her opponent [was] a 'rubber stamp' Sen. McCaskill's conduct thus far seems hypocritical. Sen. McCaskill campaigned on the ability to be independent of party pressure and vote for the interests of Missouri. However, it seems Sen. McCaskill is having trouble living up to her campaign promises."
Progressives aren't happy with McCaskill either
Midge R. Potts of Springfield, who made a statement by running against Rep. Roy Blunt in last summer's Republican primary election, sent this open letter to McCaskill appealing to her. In part she said:
"...you are going to be protested during your appearances in Springfield and Columbia for your current position regarding the war in Iraq. Many of the people taking part in these demonstrations are individuals who not only voted for you last November but worked hard during your campaign to get you elected.
I did not originate this call to action, but did forward it at the request of Missouri's Military Families Speak Out and Missouri's Iraq Veterans Against the War. At least two of the organizers of this action were in the meeting with your legislative aid when several Missouri constituents lobbied on January 29th for an end to Iraq War funding.
Among those in that meeting was Staff Sargeant Brian Hill, a member of the Army National Guard. He wrote the following paragraph that was included in the call to action which resulted in the protests of your visits to Springfield and Columbia:
"I was grateful to speak with the staff in McCaskill's office; however, after a half hour of sharing our stories it seemed apparent to me... that they just weren't listening and they just really didn't give a flip. I'm convinced she's already working on her re-election so as to be careful what she says, what she votes for and basically giving us the same old song and dance of typical politicians.

Meanwhile, a harsh reality hits me everyday as I wake up... three more of my brothers and sisters have died in Iraq Therefore, I risk my army career, 9.5 years in the service, to speak out and against a war that should've never happened, a war that was based on false pretenses, purposefully manipulated and exaggerated "evidence."

So, my question is will Claire McCaskill risk her so-called career by doing the right thing? Will ordinary average folk finally ante up? It doesn't take a rocket scientist to figure out that things are seriously messed up and it certainly doesn't take a Ph.D. to know that the American people were misled into a war.
Another of your constituents, Cloy Richards is a member of Iraq Veterans Against the War. As you know, Cloy is a friend of mine; I know his story well. He is a proud Marine who has served two deployments to Iraq and now speaks out about the atrocities committed there by the U.S. military under orders from the Pentagon and Bush Administration.
Senator McCaskill, you heard Cloy speak in Cape Girardeau and then asked him to be in a commercial for you. Without that commercial, and others in which U.S. military service members and veterans appeared, you may not have won the election.
Now, Cloy is asking you to end the war in Iraq, and to bring his fellow Marines home from a battlefield to which they never should have been sent. Senator McCaskill, Cloy is not the only person I know who has served in Iraq that is now taking a firm stand against the war in which they themselves were forced to fight. You need to seriously listen to the growing number of Iraq War vets from Missouri and across America. Both Cloy Richards and Brian Hill are among nearly 1300 soldiers, Marines, airmen, and sailors still under contract to the U.S. military (active duty/reserves/guard/IRR) who have signed the Appeal for Redress from the war in Iraq....."