Enjoy a good mystery with your meal
March 21, 2007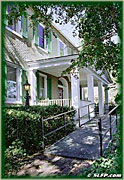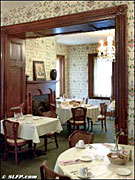 Next time in St. Louis
Enjoy an afternoon or evening
at the Bissell Mansion
Restaurant & Murder Mystery
Dinner Theatre
Located at 4426 Randall Place near the Grand exit off of I-70, the once historic home of Capt. Lewis Bissell, a commissioned officer under President Thomas Jefferson, was built in the mid-1820s. Originally from Connecticut, Bissell served with distinction in the War of 1812 and after being promoted to captain was given command of Fort Clark, now Peoria, IL. He acquired 1500 acres known by riverboat pilots as Bissell's Point and built the mansion on a hill overlooking the property. The Bissell Mansion was rescued from the wrecking ball in the late 1950s and is now host to St. Louis' original participatory comedy/mystery/dinner theatre. A four-course dinner is served between the acts of the show with the murderer and suspects randomly selected from the audience.
Schedule for 2007
present - April, Go With the Wind
May - July 2007, Field of Schemes
August - October 2007, Mayhem in Mayberry
November - December 2007, Murder on 34th Street
Showings between dinner courses are Fridays and Saturdays at 7 p.m., Sundays at 2 p.m.; and during lunch Tuesdays thru Fridays from 11:30 a.m.-2:30 p.m. A matinee theatre menu is available Mondays thru Saturdays for private parties.
For reservations phone: (800) 690-9838 or (314) 533-9830.
For menus, prices, a description of the programs, go here.
a d v e r t i s e m e n t