Name that weed
July 09, 2007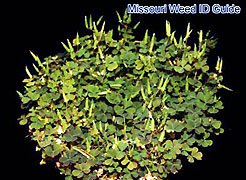 Creeping Red Woodsorrel or Oxalis corniculata is one of the plants listed in the online Weed I.D. Guide maintained by the Science Program of the University of Missouri-Columbia.
The University of Missouri-Columbia Weed Science Program has posted a Weed I.D. Guide online. Each specimen is listed alphabetically by common name, scientific name and alternate name(s).
A brief description is further elaborated by a description of each plant's leaves, stems, flowers and identifying characteristics. A series of photographs in many cases further distinguishes each developmental stage.
While the website claims to still be under construction, visitors are able at the bottom of the page to click on a letter of the alphabet to create a pull down menu of plants starting with that letter. This website is handy for farmers, gardeners and homeowners in identifying weeds and then planning correct control strategies.
To access this guide, go here (http://plantsci.missouri.edu/weedscience/WeedScienceIDGuide.htm).