G.W. Carver is more than just the peanuts man
August 09, 2007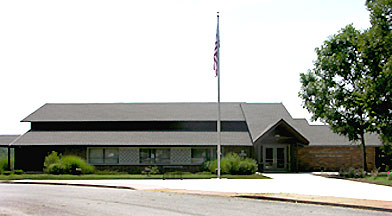 Officials at George Washington Carver National Monument in Diamond yesterday held a ribbon-cutting ceremony dedicating the new 18,000 square foot museum, theatre and interactive Discovery Center.
The completed project includes renovation of the 1960 visitor center that now has a new expanded theater, improved museum exhibit area, interactive exhibit and classroom spaces, a terrarium, archives, and library, as well as a much needed tornado shelter for visitors and employees.
"We are grateful for everyone's support and understanding during our construction period and hope that our visitors are able to experience the legacy of Dr. Carver in a new, powerful, and very interactive way," commented park superintendent Reginald Tiller. "We have been honored to work with Senator Bond and Congressman Blunt to make this project become a reality and appreciate their continued support."
The monument is the first unit of the national park system to honor someone other than a U.S. president. Many are familiar with the fact that George Washington Carver created over 300 uses for the peanut, but as Paxton Williams, executive director of the George Washington Carver Birthplace Association points out, many do not know how he used his birth in slavery, orphanhood, childhood illnesses, and racism as motivation. These life events created an inspiring and prescriptive story that the monument reveals.
"Though he was a creative genius," Paxton said, "what makes George Washington Carver really special was that he had his priorities in the right place: he strived to benefit others, often putting society's well-being above his own personal, financial well-being, and he overcame so much without any hint of self-pity, and he achieved so much without any hint of self-congratulation."
Paxton points out that Dr. Carver was certainly a man for, and ahead of, his time. Many may not know that even though Ford Motor Company recently announced that it will be using soy-based foam as opposed to petroleum-based foam in the seat cushions of their 2008 Mustangs, George Washington Carver promoted this idea in the 1930s and visited with Henry Ford on the subject matter in Dearborn, MI in 1937, Paxton said.
On a broader perspective calling attention to this week's dedication as well as a number of other current events, Paxton said that we in true Carver fashion should reflect on ways to address several trends that are adversely affecting our youth, and to do so regardless of race, gender, ethnicity, and socio-economic status. He suggests these worthy of consideration:
Plan a trip to Carver National Monument, or any site dedicated to showing the fullness of history and how the lessons of yesterday can be applied to today;
Take a group of neighborhood kids to the library and introduce them to the the Sojourner Truths, the Lucretia Motts, and the Thomas Edisons who really made a difference;
If you're an artist, share your craft with others, and encourage them to pursue their interests.
"While I can't promise you the type of compensation that the singer Fergie reportedly will receive for mentioning the name of a particular shoe brand in a future song, I can promise that you might just encourage many to expand their horizons, explore their options, and see that a world of opportunity awaits them, if they only set the right goals, and follow the right examples," Paxton concluded.
The monument is located two miles west of Diamond, MO, on Highway V, then ½ mile south on Carver Rd. Hours of operation are 9 a.m. to 5 p.m. daily except major holidays.