Book Memory Cottage for a scrapbooking weekend
August 12, 2007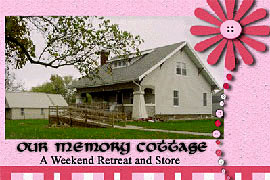 Debbie Hightower, a Springfield school teacher, has teamed up with the owners of Scrapbooking Momeez, Angela Gartin and Debby Bojko to open Our Memory Cottage, a quaint 80-year old house that, they say, is just perfect for a scrapbook retreat. Guests of the cottage, a minimum of four and a limit of nine, may reserve the facilities for a peaceful weekend escape in what is considered the newest and only permanent scrapbook retreat in Southwest Missouri. Offering bunking party style bedrooms with a comfortable twin bed for each guest and five catered meals, snacks and drinks, the cottage is available every weekend throughout the year except during Thanksgiving and Christmas. Day and nightime use is also offered.
The cropping room contains books and magazines with lots of scrapbooking ideas as well as stamping tools that are offered free for each guest to use.
The Memory Cottage has a unique setting in small town America where guests may escape cooking, cleaning, and children and have uninterrupted time and plenty of space to spread out their scrapbooking materials.
Scrapbooking Momeez is a store inside the cottage that specializes in pre-made kits, assorted materials and scrapbooks for the beginner. The duo of Gartin and Bojko, a mother and daughter team, also sponsor a monthly club that provides instruction in the latest techniques for beginning scrapbookers, or they will create a scrapbook for anyone without time to devote to it herself.

For more information call (417) 753-3313 or stop by the Memory Cottage at 300 S. Mill St. (Hwy.B), north of the Rogersville Upper Elementary School, Rogersville, MO. Store and tour hours are Monday from 9:30 a.m.-5 p.m., Tuesday-Friday from 9:30 a.m.-5:30 p.m., and Saturday from 9 a.m. to 5 p.m.
A D V E R T I S E M E N T