Fuel efficiency heats up auto market
September 05, 2007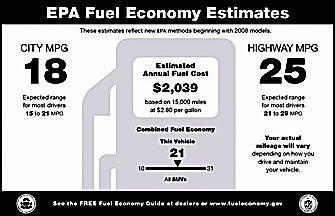 A re-designed window sticker allowing consumers to make more informed decisions about fuel consumption has been mandated for all new cars, light trucks and SUVs produced and sold after September 1, 2007, according to information recently released by John Millett of the U.S. Environmental Protection Agency. The new label will allow consumers to make more informed decisions by including the estimated annual cost for fueling the vehicle, how the vehicle's fuel economy compares to others within its class, and a website to go to for more information.
The changes coincide with the adoption of new methods to determine the miles per gallon (MPG) estimates that appear on the stickers. The new methods, which took effect for model year 2008 vehicles, will bring MPG estimates closer to a vehicles actual fuel use by including factors such as driving at high speeds, accelerating aggressively, air conditioning use and driving in cold temperatures.
2008 model flexible fuel vehicles (FFVs) announced
Thirty-one models of motor vehicles will be offered with an E85 capable engine in 2008. According to Michelle Kautz of the National Ethanol Vehicle Coalition, Chrysler, Ford, General Motors, Nissan and Mercedes Benz will add models in their lines to the fledgling number previously manufactured. "Flexible fuel vehicles" means that they will be capable of operating on regular unleaded gasoline or up to 85% ethanol. Of course, there are caveats.
Excluding the Chrysler Town and Country Minivan which will be available in all 50 states, Kautz reported that model year 2008 Chrysler FFVs will not be available for purchase in California, Connecticut, Maine, Massachusetts, New York, Pennsylvania, Rhode Island, and Vermont. Nissan FFVs will be available only in select markets. Ford, GM and Mercedes Benz 2008 FFVs will be available in all 50 states.
For a complete listing of all model year FFVs, go here.