Wash it or trash it; water the precious commodity
October 23, 2007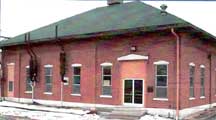 Pictured is Joplin's 120-year old water treatment plant that Missouri American Water Company says will be undergoing its first significant upgrade since the 1950s.
Nobody is going to be happy reading the list of water-saving suggestions the city of Joplin released today in answer to the Missouri Public Service Commission's decision to allow slightly more than a 64 percent rate hike for the area's water supplier, Missouri American Water Company effective November 22, 2007. But, the suggestions environmentalists say are valid, if only to stem the shortfall of potable water available.
"The city knew the tremendous impact it [the rate increase] would have on its residents," city attorney Brian Head said before testifying with city finance director Leslie Jones at a PSC rate hearing in Jefferson City in August. But their arguments in favor of preventing a large increase obviously fell on deaf ears. And it probably won't stop the second rate hike that Missouri American will get in the next couple of years for construction not yet completed.
The 120-year old water treatment plant in Joplin has not had any major updates since the 1950s. Water officials say that the upgraded plant at a cost of $44 million will have the capacity to produce 21 million gallons of water per day. This improvement, they say, "will help maintain water service reliability and regulatory compliance and support local growth and development."
Missouri American's website still contains information about their proposed water rate increase of 24.48 percent, claiming their suggestion of a "pay-as-you-go" strategy effective January 2008 for improvement to the 120-year old water treatment plant to be completed by December 2008 would result in a "savings of $1.7 million dollars to Joplin customers." However, the public service commissioners disapproved of this approach. The five commissioners who live outside of the Joplin area also insured that the costs for infrastructure improvements already made to American Water's Joplin operation would be born by the customers benefiting from them rather than shared by all customers. This "district specific pricing" is not a new approach but one that has brought about dramatic price increases to other American Water customers.
What assistance exists?
H2O Help is an emergency assistance program supported by Missouri American and voluntary donations and contributions from their customers to help those customers unable to meet a "basic needs" criteria set up by caseworkers from their local community action agency--the Economic Security Corp. in the case of residents from Barton, Jasper, McDonald and Newton counties. Those not meeting the "poverty guidelines" may contact Missouri American to set up payment arrangements to avoid loss of service.
Along other lines and benefiting business, Senate Bill 30 exempts numerous manufacturing companies from state tax (4.225 percent) and local use tax for eight items in their manufacturing processes, including the use of water. It went into effect August 28, 2007.

Conservation suggestions

Officials from the city of Joplin suggest making the following changes to the routine use of water:
Turn water off while finishing routine tasks (brushing teeth, shaving, cooking, etc.)
Run dishwashers and washing machines only when full – and necessary. If washing a small laundry load, be sure to change the dial to "small load" for reduced water usage.
Repair any faucet drips or toilet bowls that continue to "run" although the tank is full.
Keep minimal water usage in mind in daily routines to reduce the amount of water used in your household.