Native American/African connection is explored
January 05, 2011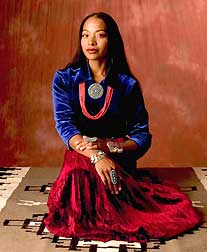 Radmilla Cody, a Navajo/African was the first bi-racial Miss Navajo. She was crowned in 1998. (Photo courtesy of John Running)
A groundbreaking exhibition exploring the shared history between Native Americans and Africans is scheduled to open at the Eiteljorg Museum of American Indians and Western Art in Indianapolis, Indiana. It will run from February 12 to August 9, 2011. A stop while passing through Indiana or the highlight of a historical adventure, the museum should be a consideration on anyone's agenda.
"Red/Black: Related Through History" includes a decade of research by the museum staff that has drawn together important art and artifacts that demonstrate shared traditions of Native Americans and Africans found in history, genealogy, food, dress, music and occupations. It will be paired with the Smithsonian's traveling panel show, "Indivisible: African-Native American Lives in the Americas."
The exhibit shows that since the first arrival of African slaves in North America, the interactions between people of African and Native American heritage has been a combined story of conflict, cooperation, cultural growth, destruction and survival. It attempts to answer the question, "Who am I and who gets to say so?"
---

Entertainer/song writer Jimi Hendrix (1942-1970), pictured in 1969 performing at the Royal Albert Hall in London, is said to have spoken highly of his Cherokee grandmother. (Photo courtesy of the Smithsonian National Museum of the American Indian)

---
Baltimore Orioles manager John J. McGraw, for example, tried to pass off Charlie Grant, a Negro League second baseman as Charlie Tokohama because he had high cheekbones and straight hair. In 1901 McGraw was testing the color line.
Exploring the complexity of racial identity the exhibit offers Lucinda Davis, who spent her life in what is now Oklahoma. She is one example of someone born a slave and who owned by a Creek Indian family was forced to adopt their ways. She was one of many who after gaining her freedom had difficulty adapting to it.
The mission of the Eiteljorg Museum of American Indians and Western Art is to inspire an appreciation and understanding of the art, history and cultures of the American West and the indigenous peoples of North America. Opened in 1989, the museum is located at 500 W. Washington St., corner of N. West St., Indianapolis, IN (downtown in White River State Park). Hours are 10 a.m. to 5 p.m., Mondays through Saturdays and noon to 5 p.m. on Sundays. For further information phone (317) 636-9378.