Females swoon over Aaron Buerge
December 16, 2002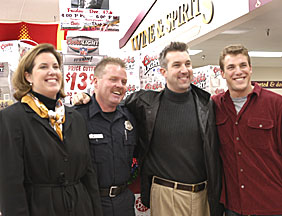 (L-R), Sarah McConnell, Joplin firefighter Terry Steen from Station 1, Al Duffy and Aaron Buerge stand in front of the Coors display at Ramey's Price Cutter in Webb City, MO.

To many girls ranging in age from the young to the young at heart, the suave and charming Aaron Buerge is a celebrity that won't long fade from memory. The Bachelor, as he is now known based on the name of the television show in which he was a participant, was at Ramey's Price Cutter in Webb City, Friday, December 13th to sign autographs and hand out roses for anyone who brought a donation for the Joplin & Area Firefighters' Christmas for Kids Toy Box. Sarah Duffy McConnell and Al Duffy also were on hand representing Duffy Distributors and Coors, the major sponsor of the event. Mrs. McConnell arranged in a short time Buerge's participation. 1,000 roses were flown in and donated by All Seasons Florist of Joplin.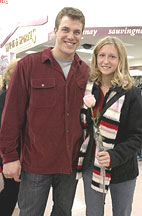 Ashley Taylor, 20, reporter for The Joplin Independent accepts a pink rose from The Bachelor. I wasn't intending to pose with Aaron, but his smile seemed so infectuous.....
Buerge arrived in a stylish black limousine. His appearance caused everyone in the line, extending almost the entire length of the store, to shriek. Every girl wanted her picture taken with the 28 year old (born April 22, 1974) senior vice president of the First National Bank branch in Springfield. Buerge, a graduate of the University of Missouri Rolla with a B.S. degree and of Clemson with an M.B.A., wooed women all across the country on ABC's highly successful weekly show.
Emily Zimmerman was the first such fan to receive an autograph and rose. An avid fan of the show, the third grader from Martin Luther Elementary left school early with her mom to claim her prime spot in the line. She said she also was excited over the possibility, when it opens, of eating at Trolley's Bar & Grille, Buerge's new restaurant venture in Springfield.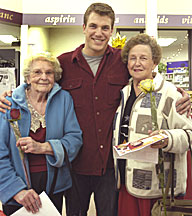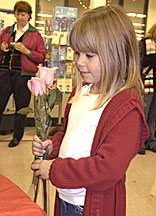 (L), Nita Webb, 83, and Leonna Kennedy, 82 stood in line for over an hour for the chance to meet the Joplin High graduate, now a national heart throb. Both ladies are from Joplin. Mrs. Webb quipped, "My husband, a direct descendant of the Webbs whose name was given to Webb City, was once a bachelor, too." Mrs. Kennedy has been a crossing guard at Stapleton School, Joplin for the past 50 years. (R), Kaylee Wright, 6, of Carthage patiently waits for Aaron to sign an autograph for her. Both pictures illustrate the gamut of ages represented.

Some girls sensing that they would not get through the never-ending line of fans, tried to sneak to the front. One teenage girl, that just wanted to catch a glimpse of Buerge, pretended to be waiting for a young girl at the front of the line. When she was asked which child, she said, "just kidding," and was escorted behind a barricade of shopping carts. After repeated attempts to get past the attention of the fellow acting as security for the store failed--which previously included pleading to stay up front for just one more minute-- she finally was able to find her way to the front from another direction.
The girls that patiently waited with toys in hand were greeted with a warm smile that made every one of them feel special. Roseanne Munson, chief volunteer co-ordinator of the toy drive, watching Buerge greeting all of his fans remarked, "If you look at his face, he acts like he knows only you. It is as if you are old friends or family."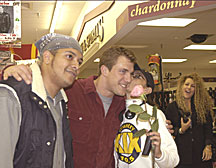 Zimmer Radio emcee, Howie, smiles as Cody Carlson, program director, gives Aaron Buerge a big kiss. Roseanne Munson, volunteer toy drive co-ordinator, is pictured to the far right
The Bachelor was not only all smiles but also showed a sense of playfulness when he took time out of signing autographs to do interviews. Among his interviewers was Cody Carlson, program director at Zimmer Radio Group. He established a repartee with her after accidentally calling her "Jody." Cody corrected him by saying her name was, in fact, "Nancy." The crowd erupted in laughter after Buerge responded, "okay, Nancy." She explained to him that he could call her anything. So, he said, "okay, Jane."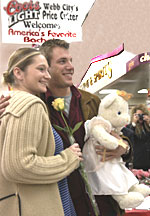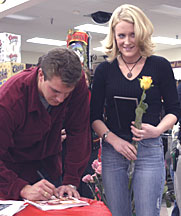 (L), Aaron accepts a large stuffed teddy bear from one of his admirers. It was one of 800 toys contributed to the Joplin & Area Firefighters' Christmas for Kids Toy Box. Zimmer Radio Group, Mid America Title, Quapaw Casino, CableOne and KODE-TV were a few of the sponsors of the toy collection. (R), Amber Willis of Carterville, after donating her toy, waits for Aaron to sign an autograph for her, as she holds the symbolic rose.

Local children to benefit from toy donations
Not only were those in line overjoyed at eventually being recipients of the roses, but they also were there to support a good cause. Because of the generosity of Buerge's fans, several needy children will receive toys this Christmas season. Within the first hour alone one large box was overflowing with contributed toys. By the time the line had dwindled down, two more boxes had been filled.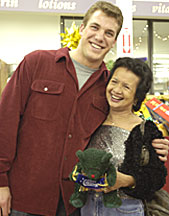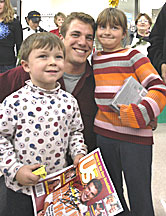 (L), Norma Corbin of Webb City got all dressed up to meet Aaron. She said she had watched every minute of his participation in The Bachelor. (R), Two youngsters are happy to get a chance to meet Aaron. Might the young boy, gripping Aaron's signed photo, be thinking, I want to be a stud like Aaron when I grow up.....

After signing autographs until about 6:15 p.m. at Price Cutter, to cater to the over 21 crowd, Buerge and his entourage went to Juke Box Saturday Night on Range Line Road in Joplin. From 8 until 10 p.m. Buerge stood while 120 fans each paid $5.00 to have individual polaroid shots taken of themselves with the famous bachelor. All of the money collected by the establishment was donated to the Children's Center of Joplin.
Final segment gets major share of the TV viewing audience.
Out of a field of 25, Buerge narrowed his final choice for a "mate" down to two. Helene Eksterowicz, 27, of Glouchester Heights, NJ, an elementary school psychologist, was the lucky recipient of a 2.15 carat oval diamond solitaire which Buerge himself insisted on paying for, picking up the $34,000 tab from Harry Winston. He had called runner-up, Brooke Smith, a 22 yr. old student at the University of Alabama, "a little naive" after seeing her at home with her parents. However, one has to believe that the alleged knowledge that Brooke's real father was serving time in a federal prison in North Carolina played into his decision.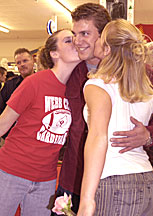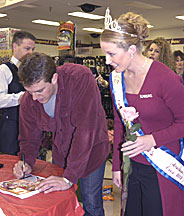 (L), Nikki Hutson, a Webb City High School senior and Samantha Sweet, a junior, have something to brag about to their classmates--they kissed Aaron! (R), Carrie Neet, a Pittsburg State University student from Cherokee County, Kansas gets her picture taken with Aaron. She is the current Miss Kansas American Co-ed. Ray Forman, KODE's chief meteorologist, seen in the background, conducted a live broadcast.

Local girls need not worry that the couple will wed anytime soon. On ABC's Good Morning America, the couple revealed that they planned on having "a very lengthy engagement." If they married, Buerge also admitted that he favored a pre-nuptial agreement. "I would have to feel really strong about our relationship," Eksterowicz said about the prospect of moving to Springfield. Buerge has said he likes his home town and currently has no plans to leave it.
For more information about The Bachelor, go to the ABC website.
Donations of toys or cash may be brought to the Joplin Fire Station downtown at 303 E. Third St., attn. Terry Steen, or to Mid America Title, 1602 S. Range Line Rd., Joplin.