I didn't know that!: Corn flakes' origin
November 07, 2013
by Ashley Taylor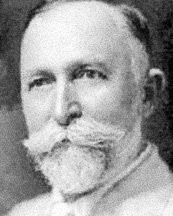 Ever sit at your kitchen table in the morning and wonder, who invented your cereal? Well, if you are eating corn flakes, it was John Harvey Kellogg, pictured at left.
His interesting life story does not stop with the invention of corn flakes. He had some pretty common sense ideas about health and wellness. But, he also had some downright crazy ones too.
John Harvey Kellogg (February 26, 1852 to December 14, 1943) is best known for his invention of corn flakes with his brother Will Keith Kellogg. But he was also an American medical doctor who ran a sanitarium using holistic methods with a focus on nutrition, enemas, and exercise.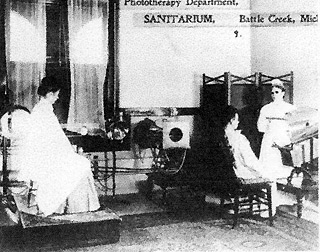 In 1876, when John Harvey Kellogg became the head physician at the Battle Creek Sanitarium (The San), it only had 20 patients and was about to close. While Kellogg was in charge, the San saw over 2,000 patients. Essentially a health resort, the San offered, among other things; hydropathy, electropathy, mechanotherapy, phototherapy, and radium cures.
Some of the San's most famous patients include: President William Howard Taft, composer/pianist Percy Grainger, aviator Amelia Earhart, inventors Thomas Edison and Harvey Firestone, industrialist/philanthropist John D. Rockefeller and department store magnate JC Penney.
Kellogg also used diet reform and frequent enemas to treat his patients. He encouraged a low-fat, low-protein diet with an emphasis on whole grains and fiber-rich foods. He also emphasized the importance of hygiene, exercise, and the daily intake of fresh air.
"Biologic living" was the name Kellogg gave to his system of health. His program consisted of a grain-based vegetarian diet. He strongly opposed alcohol, tobacco, caffeine, sugar, condiments, and spices. Biologic living also advocated exercise, hydrotherapy, fresh air and sunshine, good posture, and appropriate dress. According to Kellogg, the benefits of this type of lifestyle are "health, comfort, efficiency, long life, good digestion, sound sleep, a clear head, placid mind, and content and joy to be alive."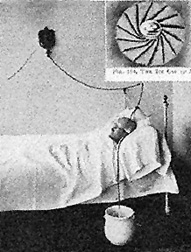 Kellogg always was fascinated with the bowel. His favorite device was an enema machine that could run up to 15 gallons of water through a person's bowel in a matter of seconds. Then every water enema was followed by a pint of yogurt with half of the yogurt eaten and the other half administered by enema, "thus planting the protective germs where they are most needed." Through enemas, Kellogg claimed that he had managed to cure "cancer of the stomach, ulcers, diabetes, schizophrenia, manic depressives, acne, anemia…asthenia, migraine, and premature old age."
Kellogg developed and/or marketed several different health food products:
Granola (1877): mixture of oatmeal & cornmeal baked into biscuits & ground up
Peanut butter (1892)
Granose (1894): flaked wheat cereal Carmel cereal coffee: a grain-based coffee substitute
Bulgarian yogurt
Protose and Nutose: first meat substitutes
The story of corn flakes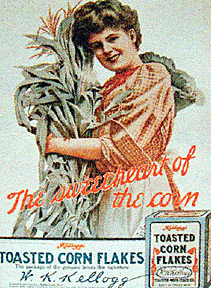 Corn flakes, like many great innovations, was developed accidentally. In 1897, John Harvey Kellogg was working with his brother Will to create a new kind of wheat meal for patients at the sanitarium. The wheat dough that they had been working on had been left out over night. When they rolled the dough out, instead of bread, they got thin flakes. Kellogg's patients liked the new food so much, he sold 100,000 pounds of the cereal in the first year.
In addition to corn flakes, Kellogg had over 30 patents. They protected some of his most notable inventions: the electric blanket, the electric light bath, and the universal dynamometer for measuring the strength of muscles.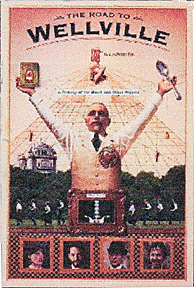 An interesting but fictionalized story about Kellogg and his sanitarium is The Road to Wellville (Viking Press, 1993). It was written by an American author named T. Coraghessan Boyle and describes a somewhat heated relationship between Kellogg and one of his former sanitarium patients, C.W. Post, who was inspired by his new diet to establish his own cereal business. The title was borrowed from a pamphlet Post disseminated in boxes of his grape nuts flakes.
The Road to Wellville was adapted into a movie in 1994, directed by Alan Parker and starring among others Anthony Hopkins, Bridget Fonda, Matthew Broderick, John Cusack, and Dana Carvey. Labeled a comedy/drama about the eccentricities of Kellogg, IMDb participants only give the movie a 5 star rating out of 10.
Ashley Taylor holds a PharmD from Creighton University in Omaha, NE and a B.A. in history from Missouri Southern State University in Joplin. She is on the staff of CoxHealth in Springfield, MO.
---
Editor's note: "I didn't know that!" is a new JI/VOTO feature. We welcome contributions that may be sent by e-mail here.