Song is symbol of Joplin relief effort
March 18, 2013
A youth group from Jacksonville, Illinois that had traveled to Joplin to help out in the aftermath of the tornado of 2012 wrote and now has had produced a song about their experiences.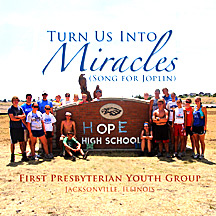 Turn Us Into Miracles (Song for Joplin) went live early this month (March 2013), on every major digital music service. Four members of the First Presbyterian Youth Group and a youth committee chair, Allen Stare, worked for months to immortalize a song that they say is "inspired by Joplin."
"It was just such a great song...we couldn't let it fade away, Stare said. "We wanted to do something that would keep the song alive.....Memorializing the song with a professional production and then publishing it to sell on the digital download services seemed the perfect answer."
Stare explained that the song was professionally mixed by a producer with experience in the Nashville contemporary Christian music industry. Written during the final day of the group's seven day August 2012 mission trip, it combines the theme of a sermon delivered by First Presbyterian Pastor John Kay entitled "Miraculous Living" with the Joplin motivational phrase "The Miracle of the Human Spirit," popularized by Joplin City Manager Mark Rohr.
"This has been an amazing experience," said Tim Chapman, youth leader and coordinator for the church who was one of the song's composers. "These kids are creative, hard working and inspirational. Twenty-two members of our high school youth group perform on the finished single and it just sounds great."
What they are hoping is that a lot of people will buy the song.
"It's 99 cents...that's less than what you would spend on a soda at a gas station," Stare suggested. His appeal was made to those at home in Illinois who attended a "Single Release Party" recently held at the church.
Stare and Chapman also are hoping that Joplin area people invest in the song as well. The group has pledged that all proceeds will be donated to "Rebuild Joplin" and the on-going tornado recovery effort.
To purchase this MP3 album from Amazon go here.