Trout fishing in Missouri without a Ph.D.
August 27, 2006
---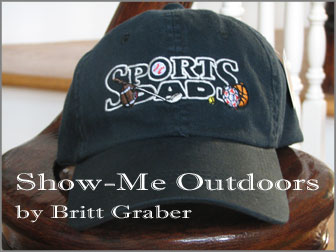 ---
Though I am not an avid, or should I say a rabid trout nut, I do enjoy fishing for them and caught the bug when I was in high school. Myself and a couple of friends used to head out on a Friday or Saturday night for Roaring River down by Cassville on Highway 112. After running around in Cassville in the evening, we would finally get to Roaring River and all three of us would sleep in the cab of a '70-something Chevy pickup that one of my buddies owned.
Somehow we were always ready by the time the horn blew at too-early-thirty in the morning. Sometimes we would have good luck and sometimes we didn't. We always had a great time though.
Missouri has many trout parks spread throughout the state. All are beautiful and a great place to take the family for a daylong picnic or even a vacation. Roaring River has cabins that can be rented that sit on the valley wall overlooking the park.
In Southwest Missouri we have numerous areas that afford an opportunity to catch one of these beauties. They include Hickory Creek in Neosho, Jolly Mill on Capp's Creek near Pierce City, Crane Creek Conservation Area, and Lake Taneycomo near Branson. I have heard of people even catching trout in Spring River near Verona. My father has told me that when he was young there used to be a trout farm in that area. I guess some of the descendants are still there.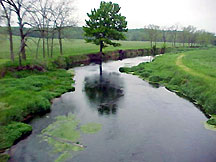 The cool waters of Capps Creek (photo by Lee Price, SMFF Conservation Liaison)
Capps Creek could be described as a typical small stream fishery in Missouri, with the exception of trout added by the Missouri Department of Conservation's periodic stocking program. The stream is nearly 9 miles in length, from its beginnings west of Highway 37, near Purdy, to its intersection with Shoal Creek.
Though I only have fished Crane Creek a couple of times for trout, I recommend it if you are really into wild trout fishing. Crane Creek has a self reproducing strain of McCloud trout. These were shipped by rail from the McCloud River in California in the 1800s. It is my understanding that this strain of trout is now extinct from this river and there are but a few places in the U.S. that they now live. Crane Creek Conservation Area has special regulations for trout fishing so make sure that you read and understand what you can and cannot do. We want to keep these fish for future generations.
I get a big kick out of some of the people that go to Roaring River. I guess what I find funniest are the "professional" trout fisherman. These are the people that are all decked out in the latest high fashion trout attire. From the low cut boots and knee high socks to the fancy shirts and shorts. They have all the latest in trout tools and flies hanging off of the must-have trout vest. Oh, and don't forget the ever so cute trout dip net. They look like they stepped right out of the pages of a Cabela's catalog. I guess the better you look the more fish you catch.
Now even though they have a fly-only zone at Roaring River, some of the "pros" seem to like to come up to the zone where just anything short of gigging is legal. They want to show us novices how fly casting is done. I have noticed, though, that for all the money they spend on attire and gear, they don't catch fish any faster than I do. They sure do whip those rods around though. I have to learn to do that one of these days.
Jolly Mill, a must-see
If you go down to Jolly Mill on Capp's Creek, be sure to go into the mill if it is open. The last time I was there, they were giving away fresh corn meal that was milled as my wife and I watched. Jolly Mill is located about halfway between Granby and Pierce City just south of highway 60.