Man sought in recent shooting
July 03, 2008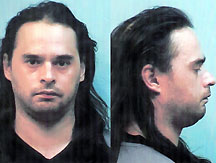 HAVE YOU SEEN THIS MAN? Joplin Police are seeking Johnny White, age 40, for questioning regarding the shooting of another man.
Joplin Police responded to a shots fired call at 904 Connecticut at 8:30 p.m. on July 2, 2008. Upon arrival they found 26-year-old Damyon Fisher with a single gunshot wound to the abdomen. Fisher was transported by ambulance to a local hospital were he is currently in critical, but stable condition.
Police are currently trying to locate a person of interest in this case. Anyone with information pertaining to the whereabouts of a Johnny White, age 40, is encouraged to call the Joplin Police Department at (417) 623-3131.
News update: A warrant for the arrest of Johnny White was issued today (July 3). The warrant names White as the defendant and charges him with 1st Degree Assault and Armed Criminal Action. The bond has been set at $25,000.