Bank robbery suspect admits to crime
June 19, 2009
FOLLOW-UP: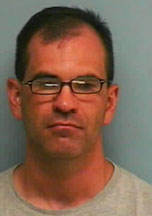 Philip L. Dodd, 36, of Carl Junction was arrested on June 19, 2009 by investigators with the Joplin Police Department. Dodd admitted to commiting this incident, according to a release by Lt. Michael Hobson.
Charges were submitted to the Newton County Prosecutor's office. Bond has been set at $50,000 for first degree robbery.
---
The Joplin Metro Credit Union was robbed of an undetermined amount of cash yesterday, June 12, 2009. Just before noon a white male entered the bank at 3301 Texas and demanded cash from the tellers.
Although no weapon was displayed, the suspect threatened its use. After taking the money given him the suspect left the building on foot and was last seen heading towards 32nd and Rangeline.
The suspect should be considered armed and dangerous. He has been described as 5'07" and thin build, last seen wearing a white ballcap with a black rim, gray t-shirt and khaki pants.
Detectives from the Joplin Police Department responded to the scene for processing and a follow-up investigation.
Anyone with information in regards to this crime is encouraged to contact the Joplin Police Department at (417) 623-3131. Those who wish to remain anonymous can call the Joplin Police Department TIPS hotline at (417) 623-3131, ext 555.