Police blotter: bank robbery foiled
July 29, 2009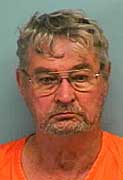 The Joplin Police Department responded to a robbery in progress at US Bank, 105 N. Range Line Rd. Billy Appier, 71, of Cherokee, KS, pictured, had entered the bank wearing a straw hat and sunglasses and told bank employees that he had placed an explosive device on the roof.
A perimeter was set up around the bank by JPD officers and the SWAT team. The suspect exited the bank about 30 minutes after having arrived. He was taken into custody without incident. Charges for 1st degree robbery are pending.
For precautionary measures a sweep of the parking lot was performed.