Police Blotter: Californian busted
September 19, 2009
According to a report by Lt. Mike Hobson of the investigations unit, Joplin Police Officer Blaine Cornelius on the morning of September 15, 2009 stopped for speeding a silver Acura with California license plates. The stop occurred at the Main Street exit off of I-44.

Cornelius became suspicious upon contacting the driver of the vehicle when she appeared to be extremely nervous. During the course of investigation he was given consent to search the vehicle. During his search he located a large quantity of a white crystal substance that appeared to be "ICE," a form of crystal methamphetamine.
The substance later field tested positive for methamphetamine. It weighed in at one pound. It is estimated to have a street value of $50,000.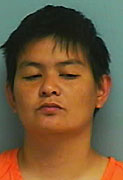 Margaret A Tiango, pictured, a white female, 33 years of age, from Long Beach, CA has been charged by the Newton County Prosecutor's Office for Possession of a Controlled Substance with the Intent to Distribute. Bond was set at $20,000.