Joplin Police Blotter: Chase ends in death
February 17, 2010
A police pursuit ended tragically Tuesday evening when the passenger in a suspect vehicle that ran from police succumbed to injuries. The fatality was the result of the suspect having run a stop sign northbound at 7th and Black Cat Road and colliding with a pickup travelling westbound on 7th street.
A Joplin Police officer attempted to stop a black 2001 Ford Mustang in the area of 20th and Maiden Lane at 6:37 p.m. for lane violations. The vehicle attempted to elude the officer and a pursuit ensued. The pursuit continued on the west side of Joplin and ended approximately nine minutes later when the suspect ran the stop sign and collided with a Dodge Ram pickup.
A passenger in the vehicle, Marcayla Ackerson of Joplin, age 18, was transported to a local hospital where she later passed away from injuries sustained from the crash. The driver of the suspect vehicle also was transported to a local hospital and treated for his injuries before being transported to the Joplin City Jail.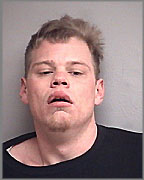 Boyd L Damet of Joplin, age 26, pictured at left, currently is awaiting formal charges of involuntary manslaughter. Damet also had a warrant for a parole violation out of Missouri and was cited for numerous traffic offenses, including driving while revoked.
The Missouri Highway Patrol was called to work the accident. The investigation continues.
Police searching for suspect
Yesterday (Feb. 18, 2010) at 2:02 p.m. Joplin Police responded to a call of an armed robbery that had just occurred at the Medicine Shoppe Pharmacy, 1940 E 20th St.
A white male described as wearing a black wig, red flannel shirt, and black pants entered the pharmacy armed with what was described as a shotgun and demanded medication. After taking an unknown quantity of medication the suspect left the pharmacy on foot.
The suspect was described as a white male, approximately 5'7", with a possible mustache and medium build. The suspect appeared to be in his twenties.
Detectives responded to the scene for processing. A track was conducted but at the time of this release a suspect had not been located. The investigation continues.