Joplin Police Blotter: Robbery suspect captured
April 12, 2010
The Joplin Police Department was called to 431 N. Jackson on April 11, 2010 at 2:08 a.m. in reference to a possible burglary in progress. The person who made the phone call saw a male subject trying to break into his neighbors' residence through their daughterís bedroom window.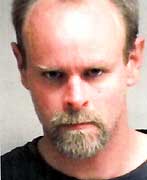 When officers arrived on the scene, the male suspect fled on foot and was chased down by them. The suspect Gregory A Sadler, 40, from Joplin, pictured, was charged with 2nd Degree Burglary by the Jasper County Prosecutorís Office.
The Joplin Police Department is asking residents that have had similar incidents like this that occured over the last several years or who have had similar recent incidents, to report them.
The department also recommends that all residents check the security of windows left open at night. Residents should be on the lookout for suspicious activity in their surroundings and around their neighbors' residences and report it to the police.