Joplin Police Blotter: Murder suspect is arrested
November 15, 2010
Update: Charges filed
Preliminary Autopsy results
An autopsy was conducted on Sean C. French, age 46, of Joplin this afternoon in Columbia, MO. Preliminary results show that French died as a result of blunt force trauma to the head.
William Laramore has been officially charged with 1st Degree Murder and 1st Degree Assault through the Jasper County Prosecutorís office. The total bond amount is $110,000. The name of the victim is still being withheld due to pending notification of next of kin.
The victim of the 1st degree assault, Steve Shockley, is currently in stable condition at a local hospital
---
Joplin Police were called to a possible assault at 814 West A St., occurring just before midnight on November 14, 2010. Upon arrival officers found a victim of an assault that had occurred in the residence. The victim was transported to a local hospital where he was later pronounced dead as a result of his injuries. The name of the victim is being withheld pending next of kin notification.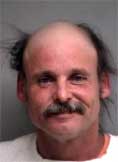 William Laramore, age 44, of Joplin, pictured, was arrested at the scene for probable cause first degree assault. Paperwork has since been submitted to the Jasper County prosecutor for a charge of murder.
A second victim, Steve Shockley, age 48, of Joplin was transported to a local hospital where he is currently being treated for serious injuries stemming from this incident.