Joplin Police Blotter: Possible abduction
May 26, 2012
Yesterday (May 25, 2012) just before 9 p.m., Joplin Police officers were dispatched to Steak-N-Shake, 3115 Hammons Blvd., in reference to a disturbance. A white female approximately 50 years of age, with purple hair, had run from a 90s Model Olds Cutlass, white in color, to the drive through window. She pounded on the window and yelled for someone to call 911.
A white male, approximately 50 years of age, brown hair, wearing a white t-shirt, approached the female and pulled her towards the vehicle. The female had a minor cut, unknown location, but enough to leave small amounts of blood at the scene.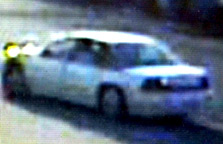 Once at the car both subjects got inside and left towards Range Line Road. The suspect vehicle is a white Olds Cutlass or similar, with amounts of trash inside the vehicle. A possible plate number of M1J J16 MO may be on the vehicle, but police are unsure if this number is completely accurate.
If citizens spot this vehicle, they should contact the Joplin Police Department at (417) 623-3131, Ext 424. Any questions can be directed to the evening shift Sergeant, John Hollingsworth or whomever else might be handling the case.