NTA again plans convention in Escanaba, MI
July 09, 2014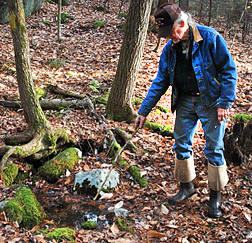 Expert trapper Johnny Thorpe stands over a concealed spring hole set for trapping a fox or coyote. (photo courtesy of T.R. Hendrick)
Famous trappers and predator callers from all over the U.S. and Canada will share their expertise at the National Trappers Association convention at the Upper Peninsula State Fairgrounds in Escanaba, Michigan on July 24-27, 2014. Twenty-five trappers and one predator caller will be on hand to demonstrate tips and even share some secrets valuable to both novice and veteran trappers.
NTA Hall of Famer, Johnny Thorpe, a professional trapper and trapping instructor for over 53 years, will offer a demonstration on fisher and marten trapping. He has trapped from the wilderness of Quebec to nine states including in the deserts of California.
A bobcat demo will be presented by Clint Locklear, a professional fur and control trapper from Tennessee. Owner of the Big Country Lure Beaver Control Institute and co-founder of the Predator Control Group, Inc., Locklear started trapping for marten in Alaska and continued long lining for fur and doing control work on beaver after returning home. He has trapped in over a dozen states.
With a true passion since childhood, Les Johnson, who was born and raised on a south central Nebraska farm, will share his expertise on predator hunting. In 1999 following a dream of becoming one of the best coyote callers in the world, he secured the Triple Crown Championship (Midwest, national and world).
Brandon Johnson, 23, from northeast Ohio will give a demo on otter trapping. He has been trapping ever since he could walk and a full time fur and ADC trapper for seven years, having trapped in four states and Africa.
These are just a sampling of professionals available to share information with those in attendance.
At least 15 food vendors will be on the grounds, the Gas and Stem Village will be operational and contests for adults and kids such as trap setting, skillet toss and BB shooting will take place.Also, there will be fishing in Pocket Park, two fur fashion shows will take place and a dance is scheduled on Saturday night featuring the band Runaway Train. On Sunday morning at 9 a.m. a non-denominational church service is planned.
Hours are 8 a.m. to 6 p.m. on Thursday through Saturday and 8 a.m. to noon on Sunday. Admission is $10 for all four days. Kids under 12 are free.
For more information about the event go here.