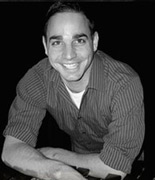 Brian Fronzaglia, pictured, is the new artistic director of Pro-Musica-Hoplin, according to an announcement by its board. Professor of percussion and director of athletic bands at Missouri State University, Fronzaglia will be engaging the ensembles who present Pro Musica's concerts and handling technical requirements related to the concerts
Fronzaglia holds a Bachelor of Arts in music education from Penn State, a master's degree in percussion performance from Michigan State University and has completed work towards a Doctorate of Musical Arts in Percussion Performance at the UMKC Conservatory of Music. He has preformed around the United States and Europe as a soloist and in chamber ensembles.
Pro Musica, a not-for-profit corporation, was founded in 1981 by Cynthia Schwab and is now in its 33rd season. Pro Musica's mission is "to foster interest in, appreciation for and enjoyment of classical music in Joplin and the four-state area". Each year the organization presents five or six classical chamber music concerts which are open to the public at no charge and an open air PoPs concert in June. An international symphony orchestra concert is presented every other year.