Gilion honored by MCCA
November 03, 2011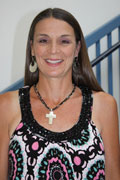 Millie Gilion, pictured, Crowder College PE/wellness instructor and athletic director, received the Missouri Community College Association's (MCCA) Senior Faculty Award at the annual convention in Branson. The award is presented annually to one faculty member at each of Missouri's community college campuses. Gilion was nominated to receive this award by college administrators in recognition of more than 20 years of service.
"This is a well-deserved honor for Millie, and it's really nice to see her recognized by the Missouri Community College Association for the many years of faithful service she has offered to students at Crowder College," stated Dr. Alan Marble, Crowder College president.
Gilion's coaching career began as a graduate assistant softball coach at Northeastern State University. She came to Crowder in 1987 to coach the Lady 'Riders and compiled a record of 506 wins-141 losses in 13 seasons, becoming just
the ninth NJCAA coach to achieve 500 wins. Gilion took her teams to three national tournaments, finishing fifth and national runners-up twice. During the summer of 1993, Gilion coached in the Olympic Festival held in San Antonio, Texas. Southwest Missouri State University honored Coach Gilion in 1994 by selecting her Coach of the Year Runner-Up for Southwest Missouri. In 2002, Coach Gilion was named to the NJCAA Fast-Pitch Softball Coaches Association's Hall of Fame.