Simpson graduates nursing program with honors
January 15, 2012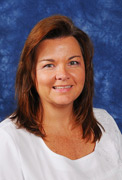 NEOSHO - Graduating with a 4.0 grade point average is a big accomplishment, and completing the nursing program at Crowder College with a 4.0 is what Denisa Simpson, pictured, a December 2011 graduate, set as her ultimate goal. Her accomplishment earned her not only the title of R.N. but also the James T. Payne Award for her excellence in scholastic performance.
"I really focused on one week at a time, one test at a time. It was too overwhelming to look at the schedule as a whole," Simpson
Simpson, a wife and mother of two boys, took her ACT at age 42. She then took one class to see if she could manage being a full-time mom and student.
"I was encouraged by my sister Lisa, and friend, Susan, who were both going to school," said Simpson.
When asked why she chose the rigorous field of nursing Simpson replied, "I was a patient in the St. Louis Children's Hospital when I was in junior high and the nurses were so good at making me feel as comfortable as possible. I thought that would be awesome to help kids, or adults not be so afraid."
Simpson admitted there were many struggles along the way, but attributed her success to the many great people she met on her journey. "I had a great study group, Marsha, Brian, Sara, Brittany, and Kerri, that helped a lot! There were a couple of teachers that went above and beyond to try and help us learn. One in particular would listen to our frustrations and bring chocolate for the bad days. She always found a way to encourage us."
Support from family and friends were what kept her going. "My husband and kids had to do housework, which they hadn't really had to do before. I had been a stay at home mom for 11 years, so it was a big adjustment for all of us. It's time to start a new chapter in my life and it's scary. I have been out of the workplace for a long time, so it will be an adjustment," Simpson explained.
The nursing program at Crowder is a two-year program that contains classroom work as well as clinical experience. Crowder offers the program at the Neosho campus, as well as at its Nevada and Cassville locations. In December, the first graduating class from Cassville accepted their diplomas.