Former MSSU administrator signs on at Crowder
January 31, 2012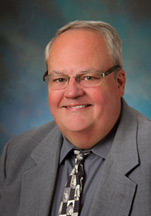 Dr. Glenn Coltharp, pictured, has been chosen as the new Crowder College vice president of academic affairs, according to an announcement by Dr. Alan Marble, Crowder president. His selection was made from a field of 60 applicants after a national search and rigorous application and interview process.
"Dr. Coltharp emerged as the clear and overwhelming choice of the selection committee, instructional council and representatives from professional and classified staff associations," Marble said. "We are extremely excited to have Dr. Coltharp join our team."
In education for almost 30 years, Coltharp spent the past eight and a half years at Missouri Southern State University. While his position at MSSU involved departmental duties, his new responsibilities will be college-wide. When asked about his decision to seek employment at Crowder, he indicated that the two main reasons for his interest in the position were based on the positive image of the Crowder family and his desire to do whatever is best for students.
Coltharp stated, "I had the opportunity while working at MSSU to work closely with Crowder administrators and employees. I see this position as an opportunity to continue working with my former friends and colleagues at MSSU to build and strengthen connections between all sectors of education, K-12, Crowder and 4-year universities."
Coltharp will begin his new position February 1, 2012, and will work closely with the current Vice President of Academic Affairs, Dr. Herb Schade, who will be retiring at the end of June 2012.