Karen Fink is elected to MCCA Board of Directors
November 21, 2013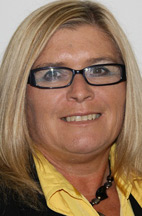 Karen Fink, pictured, agriculture division administrative assistant at Crowder College, recently was elected to the Missouri Community College Association Board of Directors at the MCCA annual convention in St. Louis. Her term will run through 2015.
Fink, originally a part-time switchboard operator for Crowder College, completed an associate of arts degree and became a full-time employee in the admissions office. Currently, she works in Crowder's agriculture division, where she assists students and instructors and oversees the operations of the Roughrider Arena.
An active member for many years, Fink always encouraged co-workers to get involved with MCAA at the college and state level. For MCCA she has provided volunteer assistance at annual conventions.
"I am looking forward to an exciting year with MCCA as we celebrate 50 years as an association," Fink said.
MCCA's Board of Directors supports association members' professional development, provides members with opportunities for networking, and advocates on behalf of community colleges. The board is elected by the association's general membership and includes representatives of each MCCA department: administrative/professional, classified staff, faculty, trustee, and retired. Zora Mulligan is MCCA's executive director.
MCCA is a statewide organization through which Missouri's community colleges work together to advance common agendas. MCCA provides advocacy, education, information, and networking opportunities in service of the state's 5,700 community college faculty, staff, administrators, and trustees.