Crowder VP becomes Seneca school superintendent
July 09, 2014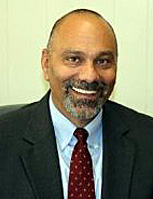 Neosho – Dr. Jim Cummins, vice president of finance at Crowder College, pictured, has accepted the position of Superintendent of the Seneca, R-7 School District.
Dr. Steve Wilmoth, former R-7 School District superintendent tendered his resignation to the Seneca School Board on June 6, 2014. Prior to his resignation, he had been placed on suspension for an ethics violation/conflict of interest that brought a fine of $8,250 and further penalty if he repeated the violation.
The college has named Amy Rand the interim vice president of finance. Currently, she serves as the associate vice president of information services, working closely with Cummins.
"Dr. Cummins has accomplished much for and with Crowder College these last two and a half years. He is a talented leader, and he will be missed at Crowder. Seneca Public Schools is fortunate," stated Dr. Jennifer Methvin, Crowder College president.
Apply for the vice president of finance position
The vice president of finance is responsbile for the leadership of the business, financial, and related support services of the college, including budget, information technology, bookstore, building and grounds, food service, and human resources. The position equires a minimum of a master's degree in business or closely related area. A doctorate is preferred. The applicant must have at least five years of administrative experience, preferably in a college setting, must have demonstrated knowledge of financial and investment principles and practices and excellent leadership and management skills as demonstrated through prior relevant work experience along with evidence of positive working relationships with employees and the public. Salary is commensurate with education/experience; an attractive fringe benefit package will be provided.
To apply, send a letter of interest outlining qualifications for the position, resume, Crowder employment application, and a copy of college transcripts to the Director of Human Resources, Crowder College, 601 Laclede, Neosho MO 64850, or send an e-mail here. For a Crowder application for employment go here.