Crowder College sets sights on new fieldhouse
January 29, 2015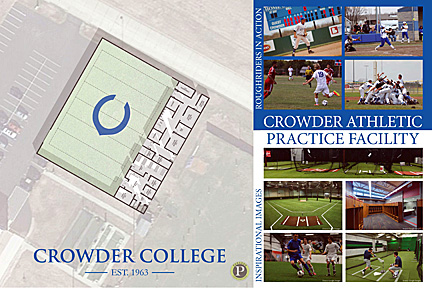 Neosho, MO – The Crowder College Board of Trustees gave the go ahead for fundraising to begin on an indoor athletic fieldhouse, illustrated above.
John Sisemore, interim athletic director, provided drawings and fundraising plans to construct the $1.4M facility, which will house locker rooms for baseball and soccer, indoor practice area, training room, concessions and more. "The 15,600 square foot building will provide much needed space for the college's athletic programs.
"This will not only provide space it will put us on the same playing field as our competitors in recruiting opportunities," stated Sisemore.
Fundraising will begin immediately with construction to take place once the entire project has been funded. Donations will be accepted by the Crowder College Foundation, a 501(c)3, organized for Crowder's benefit.
Crowder College's Athletic Department offers four sports: women's basketball and softball; men's baseball and soccer. The college's teams have proven themselves both in the classroom and on the field with students and teams being named Academic All-American as well as players moving on to Division I schools and some even drafted by Major League Baseball.
For information on gift-giving go here. Earmark the funds for the athletic fieldhouse.