Crowder and Central Methodist sign agreement
April 10, 2016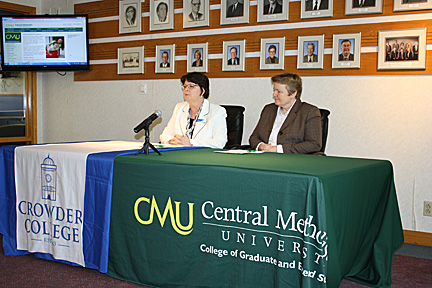 Dr. Jennifer Methvin, president of Crowder College, and Dr. Rita Gulstad, provost of Central Methodist University, ink an agreement that will provide opportunities for Crowder students seeking to further their education.
Neosho, MO - Crowder College and Central Methodist University signed an agreement that will provide opportunities for Crowder Associate of Applied Science graduates.
"This is a very good opportunity for our AAS graduates, because it utilizes the courses from Crowder to the fullest," stated Dr. Glenn Coltharp, vice president of academic affairs.
Crowder and CMU have partnered to bring other programs to the college via online and on-campus classes to aid students in completing their bachelor degrees while still living in this area. Those programs include: applied behavioral analysis, applied science in management, accounting, business, child development, criminal justice, interdisciplinary studies, nursing (RN to BSN), psychology, and sociology. Most of these programs are completely online which makes it appealing to students not wanting to relocate.
Crowder offers AAS degrees in a variety of fields. For a complete listing of the AAS degrees find the current catalog here.