Gala Moss is R-8 Teacher of the Year
May 02, 2011
Gala Moss has been named Joplin Schools' Teacher of the Year for 2011. Moss was selected for this honor based on her passion for kids and her ability to connect with students to promote learning. She will receive a plaque and the Fred Laas Memorial Award in the amount of $500.
"Gala's commitment to advancing technology through the eMINTS program and her excitement within the classroom engages students on a deeper level," comments Dr. C.J. Huff, superintendent of Joplin Schools. "Gala is able to show students that learning is fun and we are proud to have her representing Joplin Schools."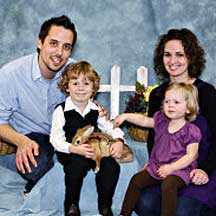 Gala Moss is shown with her husband and two children. They live in Webb City.
For the past four years Moss has been a fifth grade eMINTS (enhancing Missouri's Instructional Networked Teaching Strategies) teacher at Kelsey Norman Elementary School. Prior to that, Moss taught sixth grade at South Middle School for two years.
The mission of eMINTS is to transform education for all learners through high-quality teaching, powered by technology. As an eMINTS instructor, Moss's classroom has one computer for every two students and utilizes online research and cross-curricular software for learning. Moss also participates in extensive professional development opportunities as part of the eMINTS program.
"Gala is active in all aspects of our school and does whatever it takes to make a difference in the lives of our students," says Julie Munn, Kelsey Norman Elementary School principal. "She is always thinking about our students first and incorporates fun activities to encourage higher level thinking."
Teachers recognized with the Golden Eagle Award or Golden Apple Award are eligible to apply for the Joplin Schools Teacher of the Year Award. Candidates are screened and interviewed by a selection committee before the winner is chosen. The person selected also serves as Joplin Schools' nominee for the Missouri Teacher of the Year program.
"I personally try to make every day in the classroom an experience my students don't want to forget because learning is fun," comments Moss. " I am just a fifth grade teacher who wakes up every day excited to be a part in a child's life. Being a teacher is truly a blessing and not a job."
To view Moss' classroom webpage go here.