New JHS football coach is named
March 01, 2011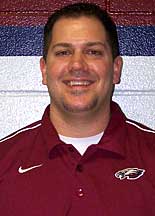 Christopher Shields, pictured, has unanimously been approved as head football coach of Joplin High School, according to an announcement by the R-8 Board of Education. Starting with the 2011-12 school year, Shields will replace Doug Buckmaster who served for six years.
We are very excited to have Coach Shields as our new football coach at Joplin High School, said Dr. Kerry Sachetta, principal. "He is an enthusiastic and passionate coach who is very interested in continuing to build our program at the high school. Coach Shields will be focused on winning football games through building relationships with our players. We believe he will bring an exciting brand of football to JHS."
Shields comes to Joplin from Wentzville, Missouri where he has served as head football coach at Wentzville Holt High School for four years. Prior to that, he was defensive coordinator and assistant head coach at Southwestern College in Winfield, Kansas, wide-receivers coach at Southwestern and linebackers/tight ends coach and special teams coordinator at Warren County High School in Warrenton, Missouri. He received his Bachelor of Science from Southwestern College in 1999 and his Masters of Education in Sports Administration from Wichita State University in 2007.
"Coach Shields will bring a great work ethic and dynamic personality that our students, staff, parents and community will be proud of," said Jeff Starkweather, JHS athletic director. "Coach Shields is a bright young coach and we look forward to his leadership and direction of the Joplin football program."