E-coli testing is finally funded
May 25, 2010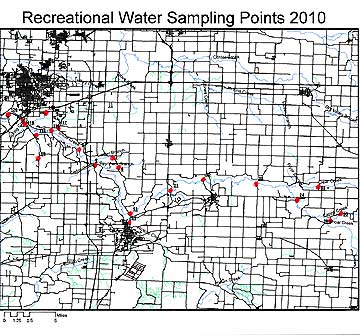 Recreational water sampling points - 2010
The Newton County Health Department recently received funding from the Environmental Resources Coalition and Missouri American Water in cooperation with the Environmental Task Force of Jasper and Newton Counties to conduct E coli monitoring within the Shoal Creek Watershed. Twenty–two sample sites on Shoal Creek and its tributaries will be sampled every other week beginning in May. This data will be used in conjunction with information collected in previous years to develop a watershed management plan for Shoal Creek in Newton County as a project of the Shoal Creek Watershed Partnership.
The Environmental Protection Agency (EPA) considers the maximum level of E coli for safe swimming to be 235 colony forming units per 100mL of water. It is not uncommon for this standard to be exceeded, especially after heavy rainfall events. The public is encouraged to be aware of this when planning swimming activities on area creeks.
A common question received is: "Is it safe to swim?" The short answer is, at times it may not be safe when E coli levels are elevated. Past sample data on Shoal Creek has shown that upper Shoal Creek below the Barry County line is often considered unsafe. Lower Shoal Creek around Joplin to the Kansas State line tends to have lower levels most of the time. However, there are always exceptions and high levels have been found on all areas of Shoal Creek in the past. Spring and early summer tend to be the time for higher numbers and as the summer progresses, water levels are lower and water temperature increases, E coli numbers tend to be lower.
The bottom line is there is always some risk of contracting illness when swimming in creeks, ponds, and lakes. Proper hand washing and good personal hygiene should always be practiced around these water sources. Never drink the water intentionally or by accidental ingestion.
The public is encouraged to periodically visit the Newton County Health Department's web site to find out the most recent E coli results. Additional information about E coli and what sample results mean can also be found there.