Exhibit exposes psychiatric abuses
January 09, 2008
St. Louis - The St. Louis Chapter of the Citizens Commission on Human Rights (CCHR) launched a "Psychiatry: An Industry of Death" exhibition on January 7, 2008. Mary "One" Johnson helped open the exhibit which features 15 display panels that incorporate audio-visual presentations depicting human rights abuses by psychiatry and carry statements from health professionals, academics, legal and human rights experts, and victims of psychiatric brutalities. The exhibit also addresses a federal plan that would screen the state's children for "mental illness" that could lead to a threefold increase in the number of children being subjected to the devastating effects of psychotropic drugs. People having toured the exhibit have signed a petition opposing funding and implementation of mental health screening in schools.
The 185-foot, state-of-the-art exhibit exposes psychiatry as an industry driven entirely by profit. It traces the origins of psychiatry, the role psychiatrists have played in the oppression of blacks and minorities, the roots of their eugenics programs and the pivotal part they played in the Holocaust. It also reveals how psychiatric drugs are behind gun-toting teens today going on shooting sprees, and how millions of federal dollars allocated to screen all 52 million American school children could increase both child deaths and acts of school violence.
"The touring exhibit shows psychiatry's deadly 'treatments' in graphic detail,"warns CCHR St. Louis chapter spokesperson, Moritz Farbstein, who listed out psychosurgery, shock treatment, deadly restraint and the prevalent inhumane conditions of psychiatric facilities, and the forced drugging of children as young as six months old. "Most importantly, though, this exhibit provides practical guidance for lawmakers, educators, doctors, human rights advocates and private citizens so they can take action in their own spheres to bring psychiatry to account for their abuses."
The touring "Psychiatry: An Industry of Death" exhibit theme is patterned after a recently opened museum by the same name at the Los Angeles headquarters of Citizens Commission on Human Rights International, a psychiatric watchdog group with 300 chapters worldwide. Co-founded in 1969 by the Church of Scientology and Dr. Thomas Szasz, Professor of Psychiatry Emeritus at the State University of New York Health Science Center in Syracuse, CCHR investigates and exposes psychiatric violations of human rights.
The exhibit is open daily through January 19 at 7900 Olive Blvd. (Westover Shopping Center), University City. For more information phone (314) 727-8307 or send an e-mail here.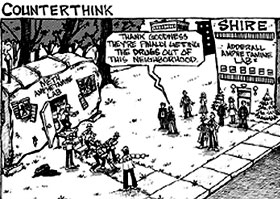 In a cartoon created by Truth Publishing International, Ltd. a passerby noticing the raid of a meth lab says, "Thank goodness they're finally getting the drugs out of the neighborhood," while behind him stands an Adderall Amphetamine Lab. The concept created by Mike Adams with art by Dan Berger calls attention to the fact that Adderall and Ritalin are amphetamine stimulants used on children.