Travel suggestion: See viewing of Titanic
December 02, 2009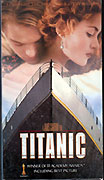 If anyone is looking for a novel way to spend a day during the holidays with visiting friends or relatives, then he or she should consider a trip to the Titanic in Branson. The visit before January 1, 2010 will include the Titanic Branson's exclusive tribute to James Cameron's movie masterpiece--winner of 11 Academy Awards including best picture-- Titanic
The Titanic Movie Gallery offers a rare opportunity to go behind the scenes for a glimpse of the film's hand-crafted props and set pieces and its beautiful costumes, including the famous red-beaded "jump" dress Rose was wearing when Jack kept her from jumping ship early in the film. There's also the pink "sinking" coat Rose wore while rescuing Jack from the sinking ship, and the magnificent heart-shaped diamond and sapphire necklace that stole the show. Valued at more than $250,000, it boasts 325 diamonds totaling 16 carats that circle a stunning 155-carat sapphire. In addition, visitors are privy to behind-the-scenes videos, photos, provocative on-location stories and the actual shooting script Cameron used.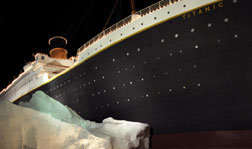 The World's Largest Titanic Museum Attraction is the #1 permanent year-round family destination in Branson. In operation for 3˝ years, it has welcomed aboard almost 2,000,000 guests. The 17,000 square-foot ship-shaped structure is built half-scale to the original Titanic and towers more than 100 feet above its anchored position on Highway 76. A 90-minute self-guided or optional audio tour covers 20 galleries on two decks displaying more than 400 priceless artifacts that once belonged to Titanic passengers or crew.
Hours of operation and ticket information may be found here. The museum is located at 76 Country Boulevard and Highway 165. Parking is ample and free.