Check out this link!
April 09, 2004
For a Political Alternative
Be sure to check out:
Veterans Party of America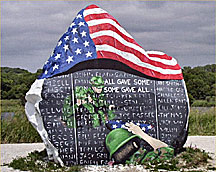 ...Ray (Bubba) Sorensen II from Adair County in rural Iowa created a tribute to our fighting forces by painting this rock. Visitors come from all over to view his artistry. Sorensen since has been commissioned to do other work of a patriotic nature.