Joplin Police Blotter: Thieves foiled
January 22, 2010
The Joplin Police Department was called to the Northpark Mall on January 21, 2010 at 12:34 p.m. in reference to a theft from a vehicle. Upon arrival officers determined that a purse had been stolen from a vehicle and advised that inside the purse was a ring valued at $19,570.00. Several local jewelry stores were notified of the theft of the ring and its description.
At 4:22.p.m. the Joplin Police Department responded to a phone call by Bunny Newton of Newton's Jewelers, 428 S. Main. He told police that there were a male and female in the business trying to get a ring appraised that matched the description of the stolen ring. Officers arrived on scene, verified that the ring had been stolen and took the two subjects into custody.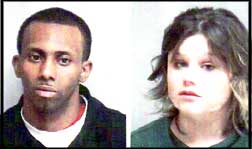 Taken into custody were Cleon L Harris, a 23-year-old male and Breanna M Johnston, a 19-year-old female, both from Joplin. Paperwork has been presented to the Jasper County prosecutor's office for charges on both suspects in this case.
The investigations division of the Joplin Police Department continues to investigate these individuals as suspects in other thefts within Joplin.