Joplin Police Blotter: Arrests; one on loose
February 14, 2010
On February 11th, 2010 the Joplin Narcotics Unit with the assistance of Jasper County Drug Task Force initiated a sting at a local retail store. The purpose of the sting was to arrest those supplying lab precursors to those who manufacture methamphetamine. As a result of the sting the following people were arrested: Carlos J. Gandy, 24, and Misha L. McAnally, 31, creation of controlled substance; Crystal A. Jackson, 26, possession of paraphernalia; and Jamie D. Hodges, 32, possession of ephedrine with intent to distribute, possession of methamphetamine, probation violation warrant from Indiana, and three failure to appear warrants from the city of Joplin. All suspects were booked at Joplin City Jail and paperwork will be submitted to the Jasper County prosecutorís Office for filing of appropriate charges.
---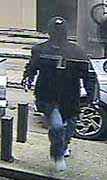 Joplin Police officers responded to a report of an armed robbery on February 11, 2010 about 10 p.m. at US Bank, 105 N. Range Line Rd. A representative of Icing by Claire's was making a night deposit at the Northpark Mall branch of the bank. The victim had exited her car and was preparing to make the desposit when whe was approached by a male wearing a black coat and gloves and wearing a ski mask. He was about 5'9" tall of medium build. The suspect pointed a handgun at her forcing her to hand over the bank deposit. He then ran west across Range Line Road into the cemetery. A K-9 unit lost his scent near Turk Avenue and Central Street. Anyone knowing the whereabouts of the suspect is asked to phone (417) 623-3131.
---

After an investigation on February 9, 2010 by the Southwest Missouri Cyber Crime Taskforce initiated by a resident at 1507 S. Virginia Ave., charges were filed by the Jasper County prosecutor's office against Nicholas A. Becker, 23, pictured at left, for possession of child pornography. He is currently being held in lieu of $50,000.00 bond.