Joplin Police Blotter: Commerce Bank robbed
March 23, 2010
Joplin Police officers and investigators responded to a bank robbery at the Commerce Bank branch located at 1804 E. 20th St. Joplin. The call came in just after noon on March 23, 2010.
The suspect armed with a handgun, demanded cash and then fled south and west on foot from the bank. A Joplin Police K-9 unit tracked the suspect to a nearby apartment complex but officers were unable to locate him.
The suspect, having worn a half mask, was described as a white male, dressed in a black hoodie with white writing on the sleeves, blue jeans and black shoes. He left with an undetermined amount of cash.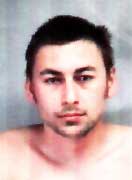 In custody is 22-year-old army deserter Timur Mitchell Short. He was captured in a motel in Aurora. An investigation continues regarding whether an accomplice, still at large, participated in the robbery with Short.