Joplin Police Blotter: Robbery suspect on the lam
May 02, 2010
The Joplin Police Department Investigations Bureau is on the lookout for Willie J. Spencer. The Jasper County Prosecutor has filed five separate charges against Spencer for unlawful restraint, felony stealing, and robbery. Bond for Spencer has been set at $75,000.00. At this time Spencer remains at large.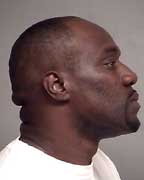 Willie J. Spencer is described as a black male, 31 years of age. He has displayed a knife in two of the theft cases. In several of the cases Spencer has asked the victims for a ride and then robbed them of cash.
Anyone with information about the location of Willie J. Spencer is asked to contact the Joplin Police Department at (417) 623-3131 or phone the completely anonymous Heartland Crime Stoppers tips line at (417) 782-TIPZ and qualify for a monetary reward.
For the public the police advise that it is always best to avoid giving rides to strangers.